Saturday, December 26, 2015 1030ET
Market Timing Charts & Comments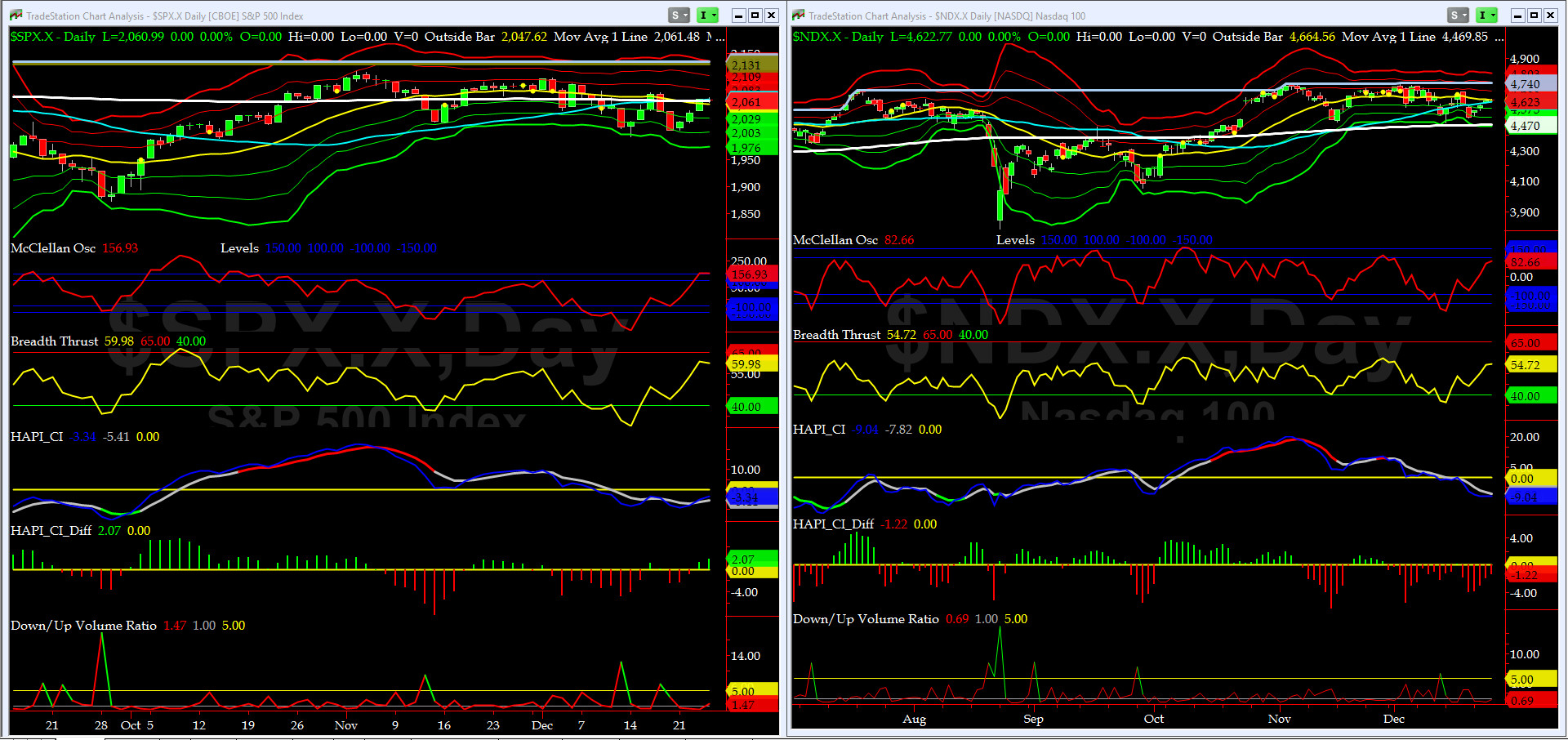 Timer Chart of S&P-500 Cash Index (SPX)

The bounce off of the Friday December 18 (my BD) Low was strong and solid. ZH & Dougie Followers ran for the hills as predicted on Twitter by yours truly. It was a no-brainer. Our momentum and breadth indicators were short-term very oversold with Bullish Divergences almost on every equity chart. Now we are entering a mild overbought condition.
---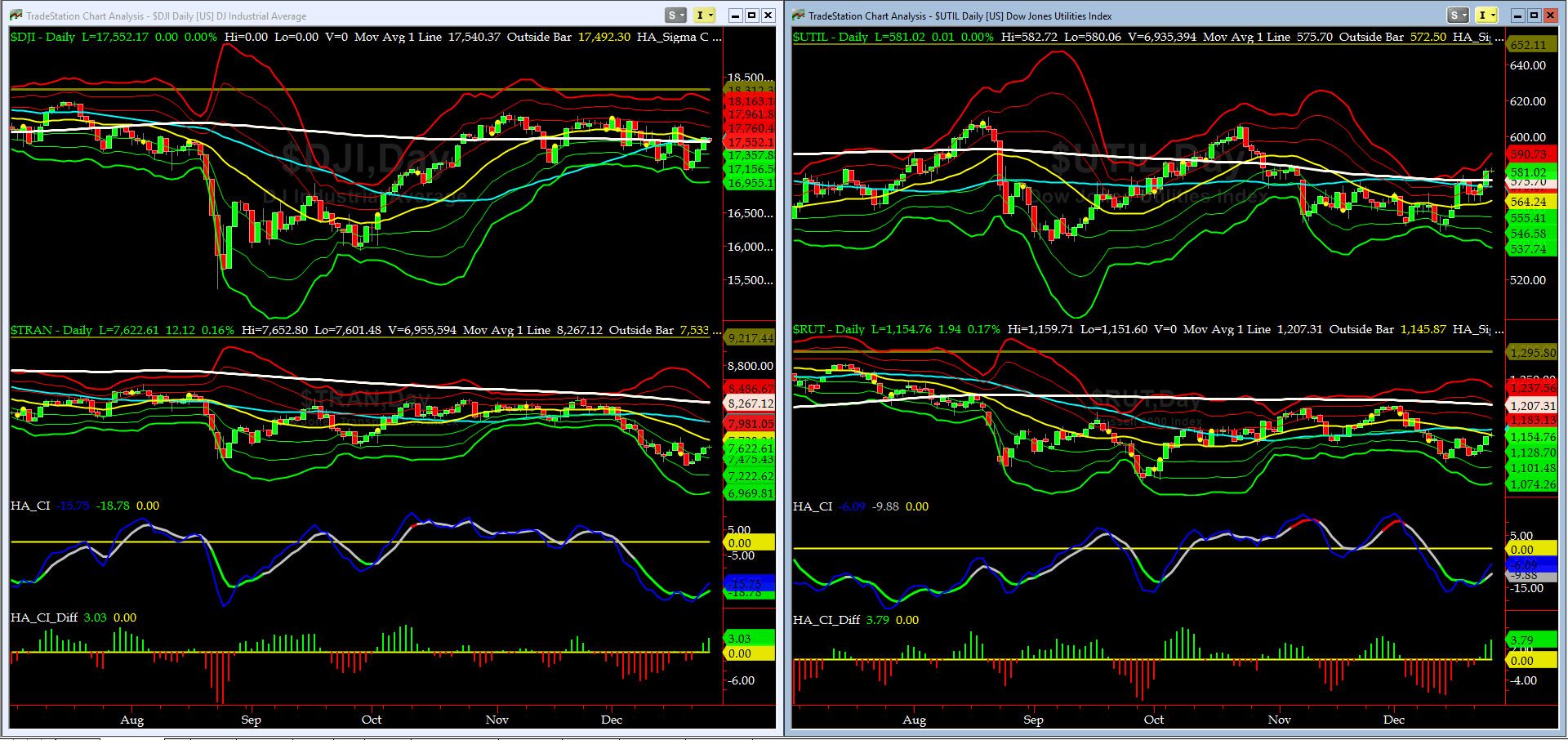 Canaries [in the Coal Mine] Chart for DJ TRAN & RUT Indices

By Thursday, Xmas Eve, both the DJ Transports (proxy for economic conditions 6 to 9 months hence) & Russell 2000 Small Caps (proxy for RISK ON/OFF), had recovered about 30% & 50% (respectively) of their December drop with their CIs still in green but now with positive slopes. RISK is coming back but still OFF for now.
---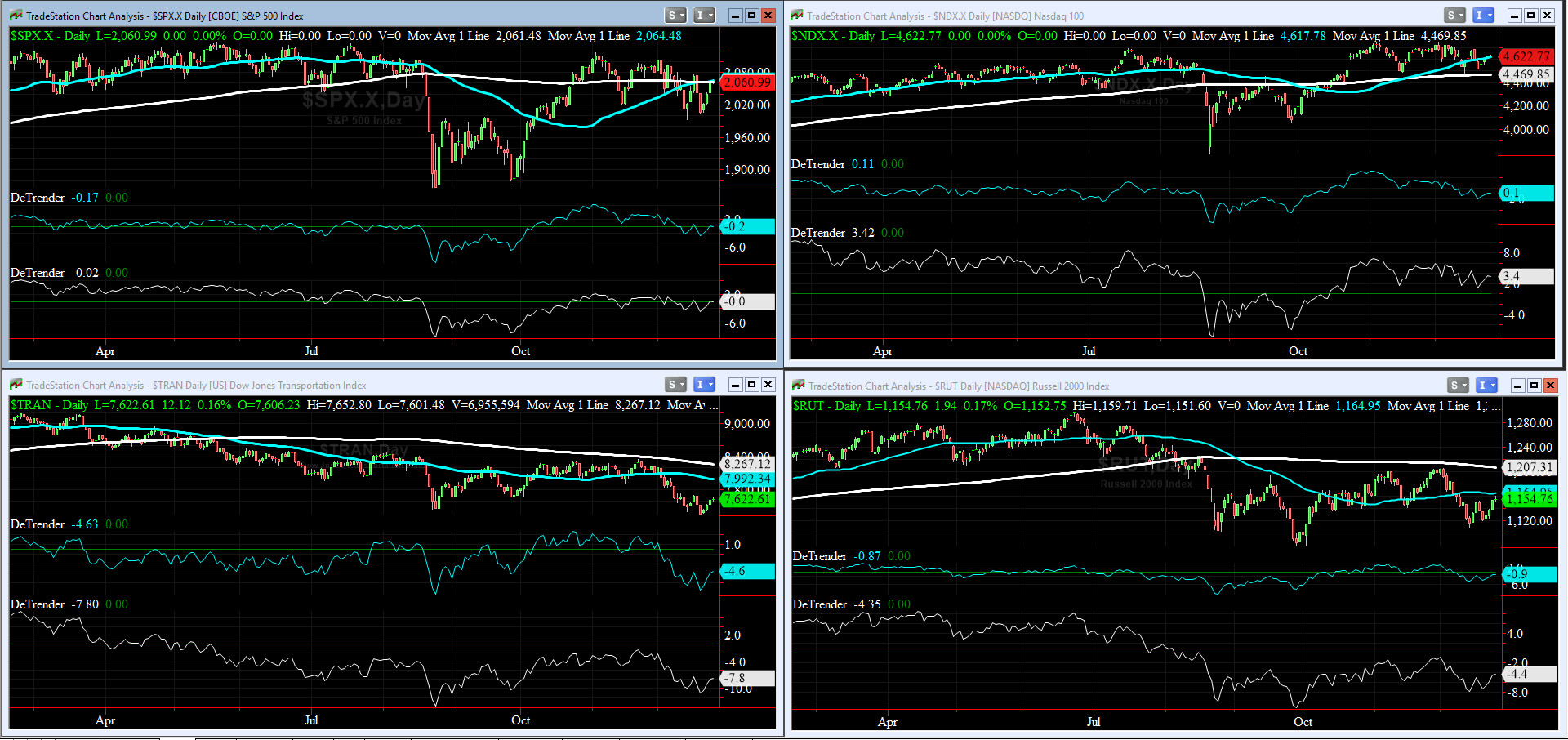 DeTrenders Charts for SPX, NDX, TRAN & RUT Indices

Much like a week ago, as of Friday Close, SIX out of our EIGHT 50DTs & 200DTs are negative, while only NDX DTs are positive this week.

---
Our WEEKLY Timing Model remains on a BUY while our DAILY Timing Model is on a SELL (this should change very soon, ioho). HA_SP1 remains around its +1 sigma & HA_momo is now at +3.8. The new 52wk highs for SPX rose to 14, while new 52wk lows eased off to 20 (40 is generally accepted as the threshold for reversal).
---
As discussed in PMT Review #123, vols collapsed this week. Again, another no-brainer. Must pay attention to Sigma Channels and this week to CIs.

---
Excellent [confirming] BUY signal by the 5-day TRIN (for NYSE), while TRINQ (for NASDAQ) is still neutral with a 0.93 reading.

---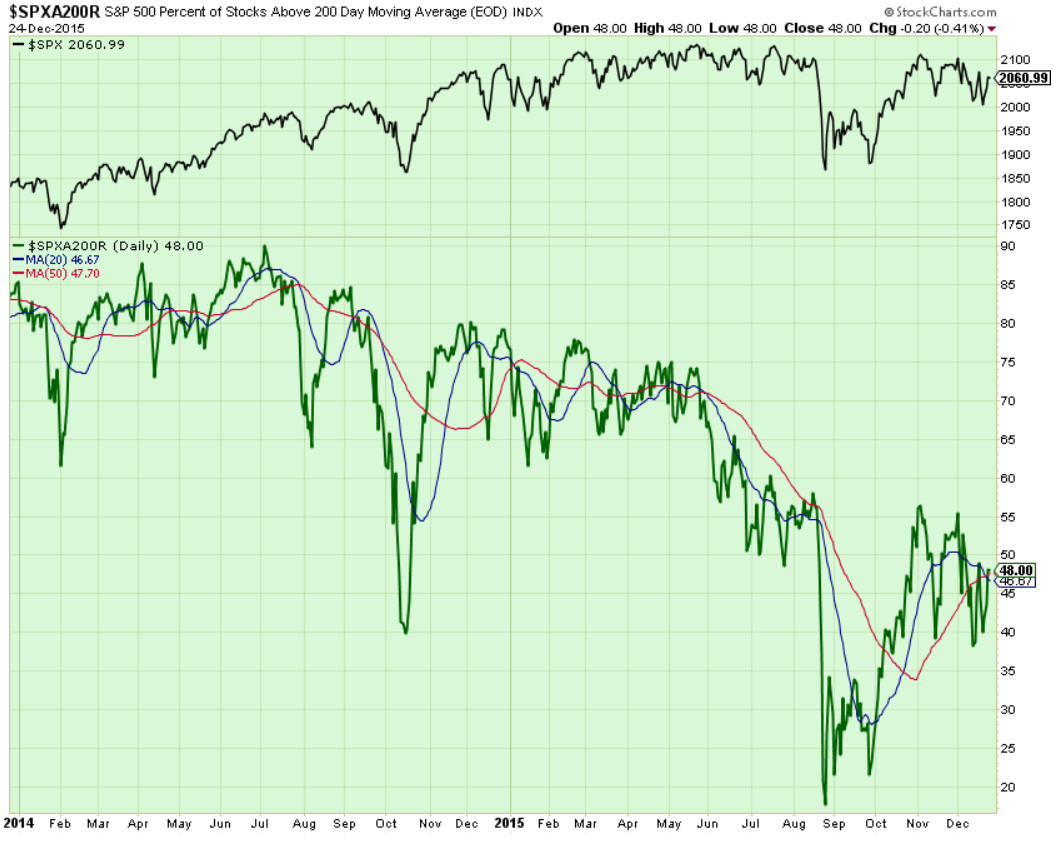 Components of SPX above their respective 200day MA Chart

This scoring indicator went nowhere fast last week. Our co-pilot, @Capt_Tiko is right. We need more Foumanat Tea.

---
It turns out that on December 18, prelim calcs for SPX SKEW stopped CBOE from publishing it (shot over design limits? most likely....). On Xmas Eve, SPX SKEW (Tail Risk) plummeted to 128.8 (below its -1 sigma).

---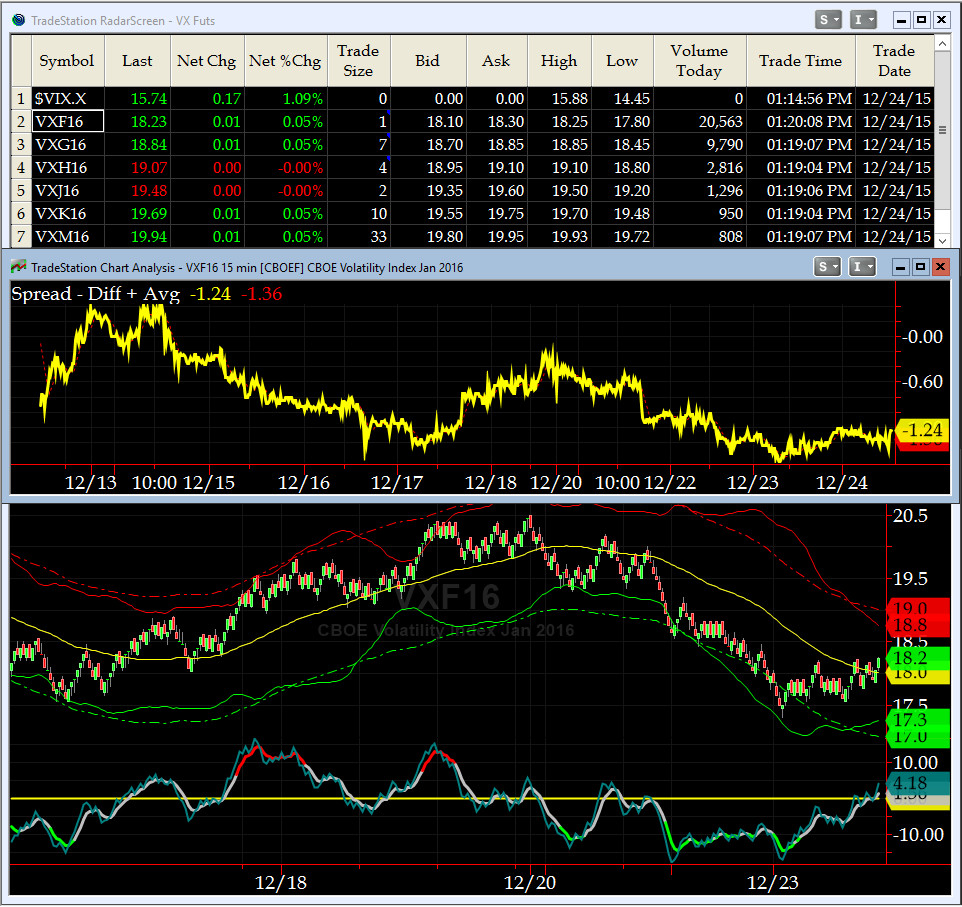 3-month VIX Futures Spread(VX) Chart

Our 3-month VIX Futures Spread (Long JAN16 Short APR16), closed at -1.24 on XMas Eve (again, great signaling by this indicator last weekend -- you can read more about this awesome algo on CBOE Options Hub under HA section).

---
At 59, this prop indicator is neutral, for now.
---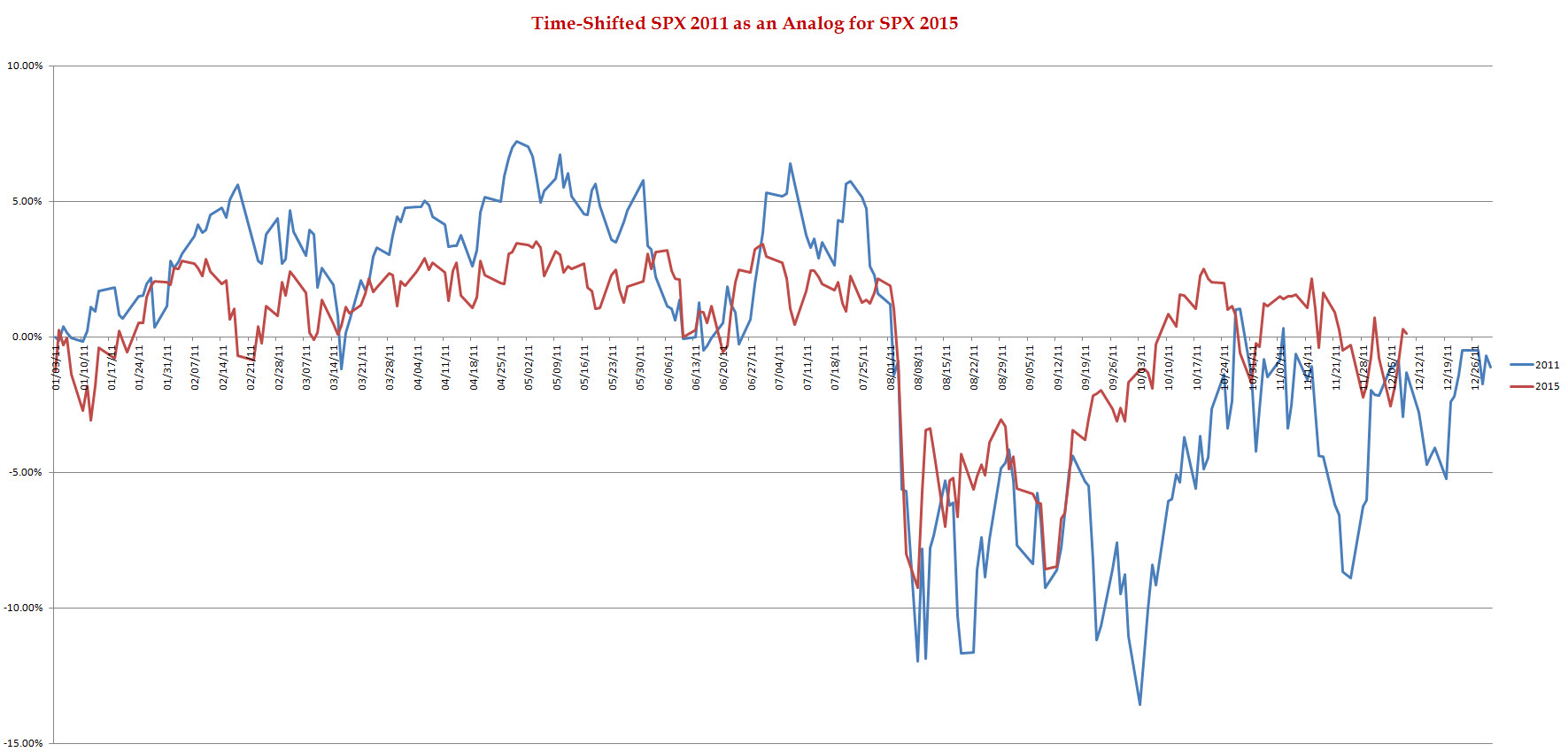 SPX 2011 Time-Shifted Analog for SPX 2015


Our coveted Time-Shifted 2011 Analog Chart, in its final week, shows that we might have another [small] leg down before the start of 2016. As we say in the NAVY, fasten your harnesses. Sailors, the ride into the New Year could get rather bumpy.
---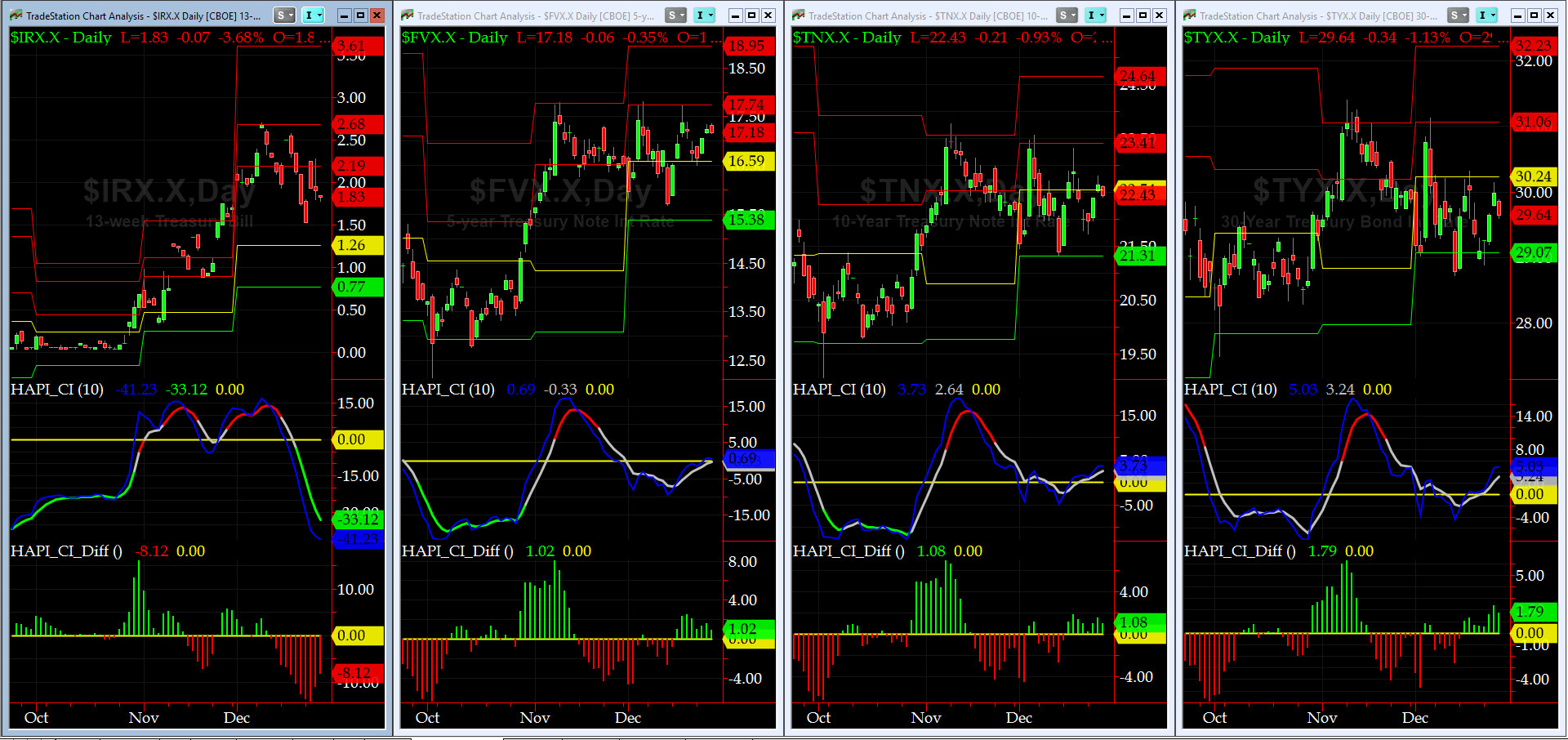 US Treasury T-Notes & T-Bonds Yields Chart

This past week, the Treasury Complex put in a bunch of dojis -- YTMs went nowhere fast. Big Boys were in the Hamptons, working on their tans. Retail was stuck in Del Boca Vista....LOL.

Good luck this week,
Fari Hamzei