Saturday, December 19, 1500ET
Market Timing Charts & Comments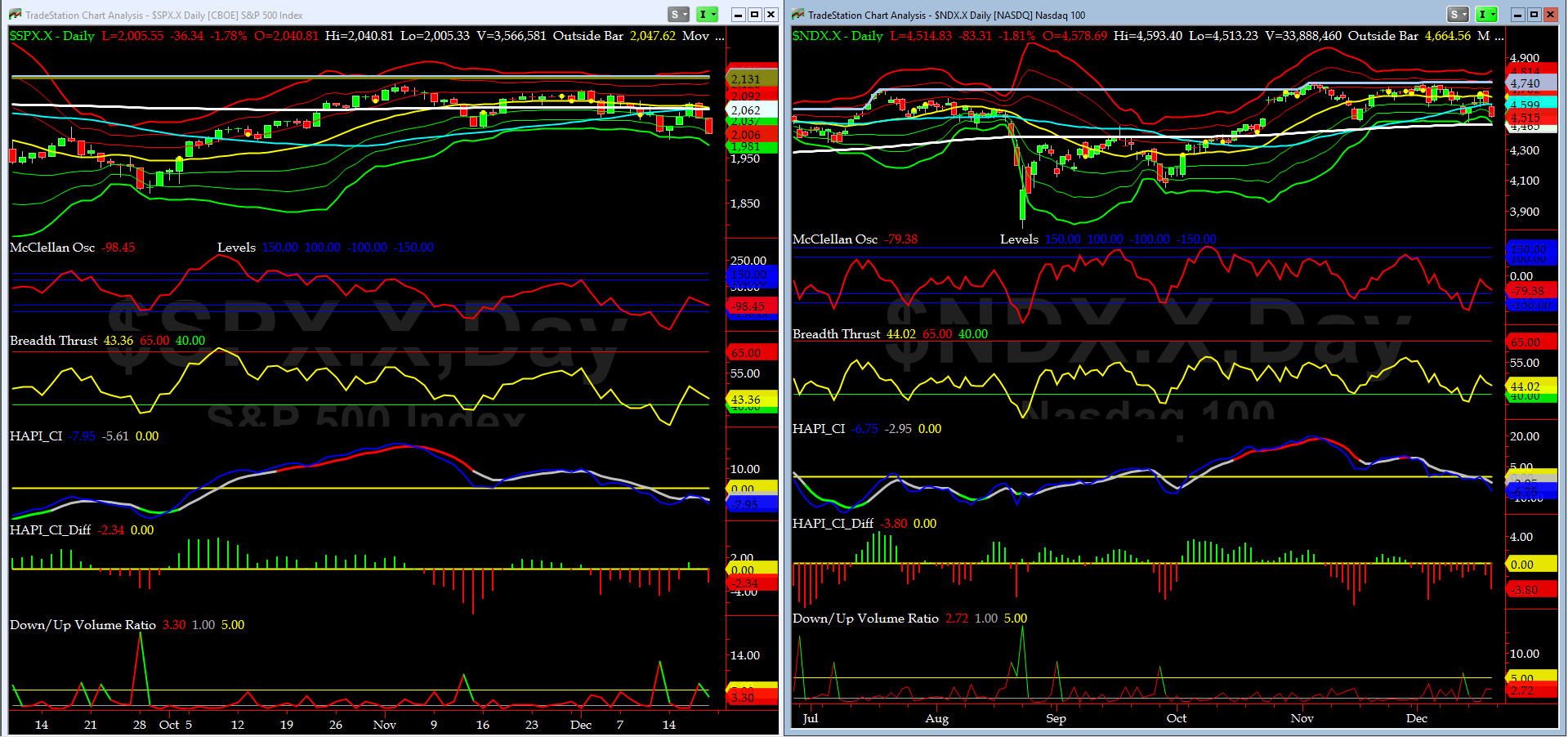 Timer Chart of S&P-500 Cash Index (SPX)

Two days of strong selling, post FED's first interest rise in nearly 10 years, has pushed our breadth and momentum indicators into a moderately oversold condition. We should witness a short-term buy opportunity late Monday, or early Tuesday, in the SPX Complex. Bullish Divergences are developing in both McClellan Oscillator and Breadth Thrust for both NYSE and NASDAQ markets.
---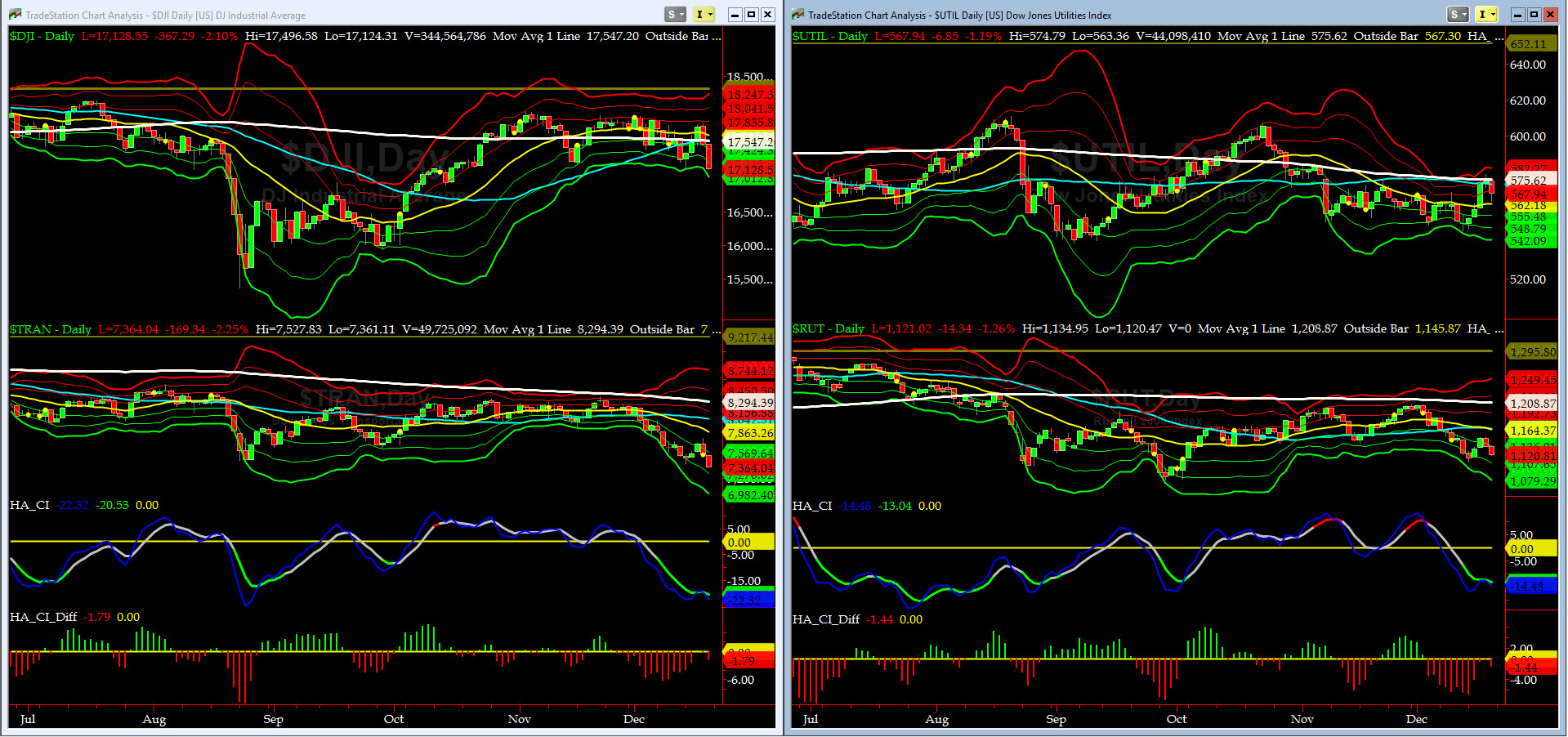 Canaries [in the Coal Mine] Chart for DJ TRAN & RUT Indices

On Thursday, both the DJ Transports (proxy for economic conditions 6 to 9 months hence) & Russell 2000 Small Caps (proxy for RISK ON/OFF), began forming LBR Flag Patterns. This has a potential for lower equity prices further down the road. RISK continues to be OFF for now.
---

DeTrenders Charts for SPX, NDX, TRAN & RUT Indices

Much like a week ago, as of Friday Close, SEVEN out of our EIGHT 50DTs & 200DTs are negative, while only NDX 200DT is remaining positive.

---
Our WEEKLY Timing Model remains on a BUY while our DAILY Timing Model is on a SELL. HA_SP1 remains around its -2 sigma & HA_momo is now at -6. The new 52wk lows for SPX eased off a bit to 36 (40 is generally accepted as the threshold for reversal).
---
Much like our last week's comments, this chart shows that final vol shockwave for 2015 is still in progress. We need to see a +4, or better yet, a +5 sigma reading in VIX to call it over. Stay tuned.

---
As of Friday Close, the 5-day TRIN (for NYSE) is very near a BUY signal with a 1.54 reading, while TRINQ (for NASDAQ) is neutral with a 1.06 reading.

---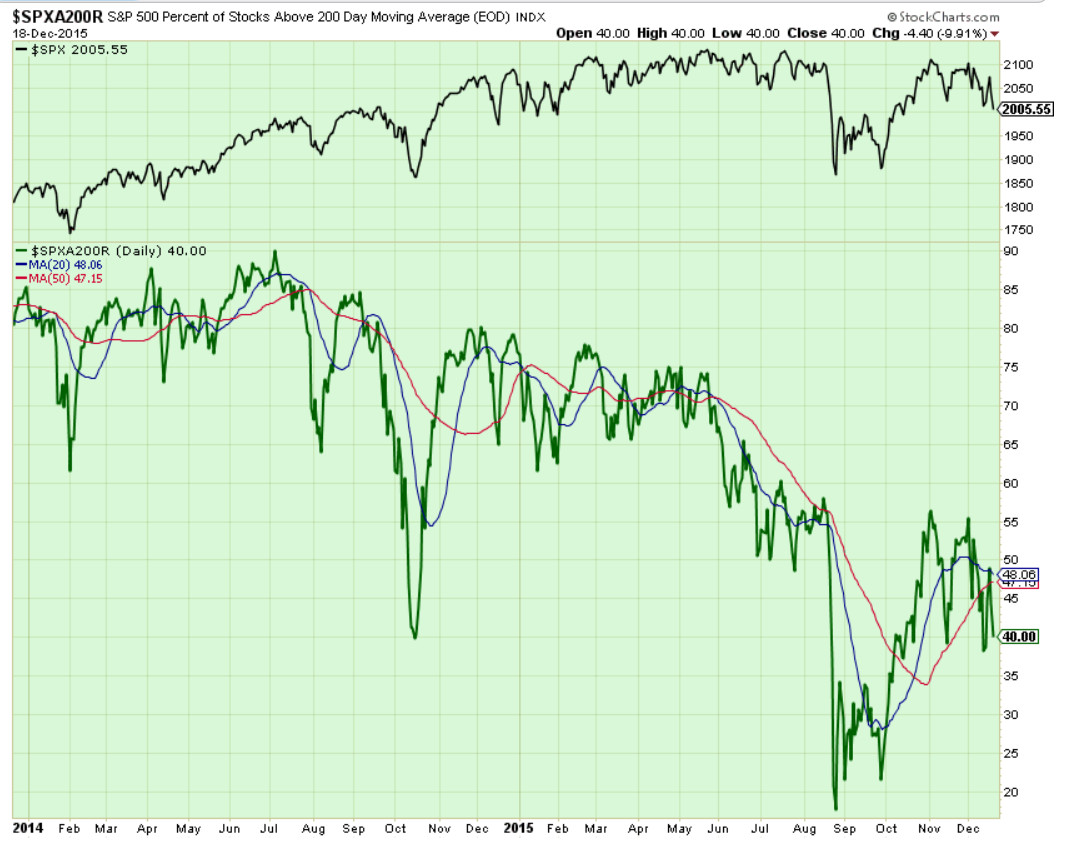 Components of SPX above their respective 200day MA Chart

This scoring indicator, last week, rose to near 50%, then broke down to settle at 40% on Friday. As before, if we do NOT bounce back, next target is 20% to 25% zone.

---
After Thursday Close (SKEW was NOT published last Friday [by CBOE]), SPX SKEW (Tail Risk) plummeted to 131.2 (its -1 sigma). As predicted in the last issue, with final FOMC and OX for CY 2015, we observed very interesting readings in SPX SKEW. Needless to say, my co-pilot, @Capt_Tiko, was glued to the screens for each daily SPX SKEW settlement data.

---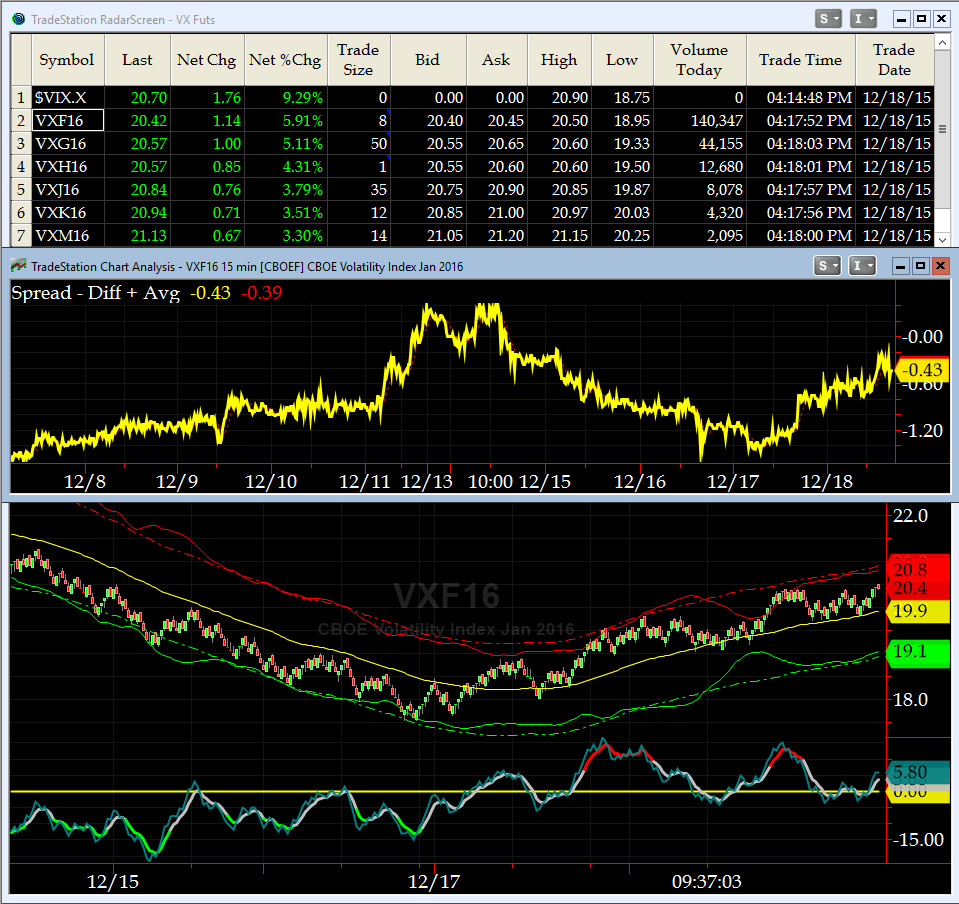 3-month VIX Futures Spread(VX) Chart

Our 3-month VIX Futures Spread (Long JAN16 Short APR16), closed at -0.43 on Friday (again, this indicator is saying the short-term low is very close).

---
At 32, this prop indicator is near its OverSold zone (20 or lower).
---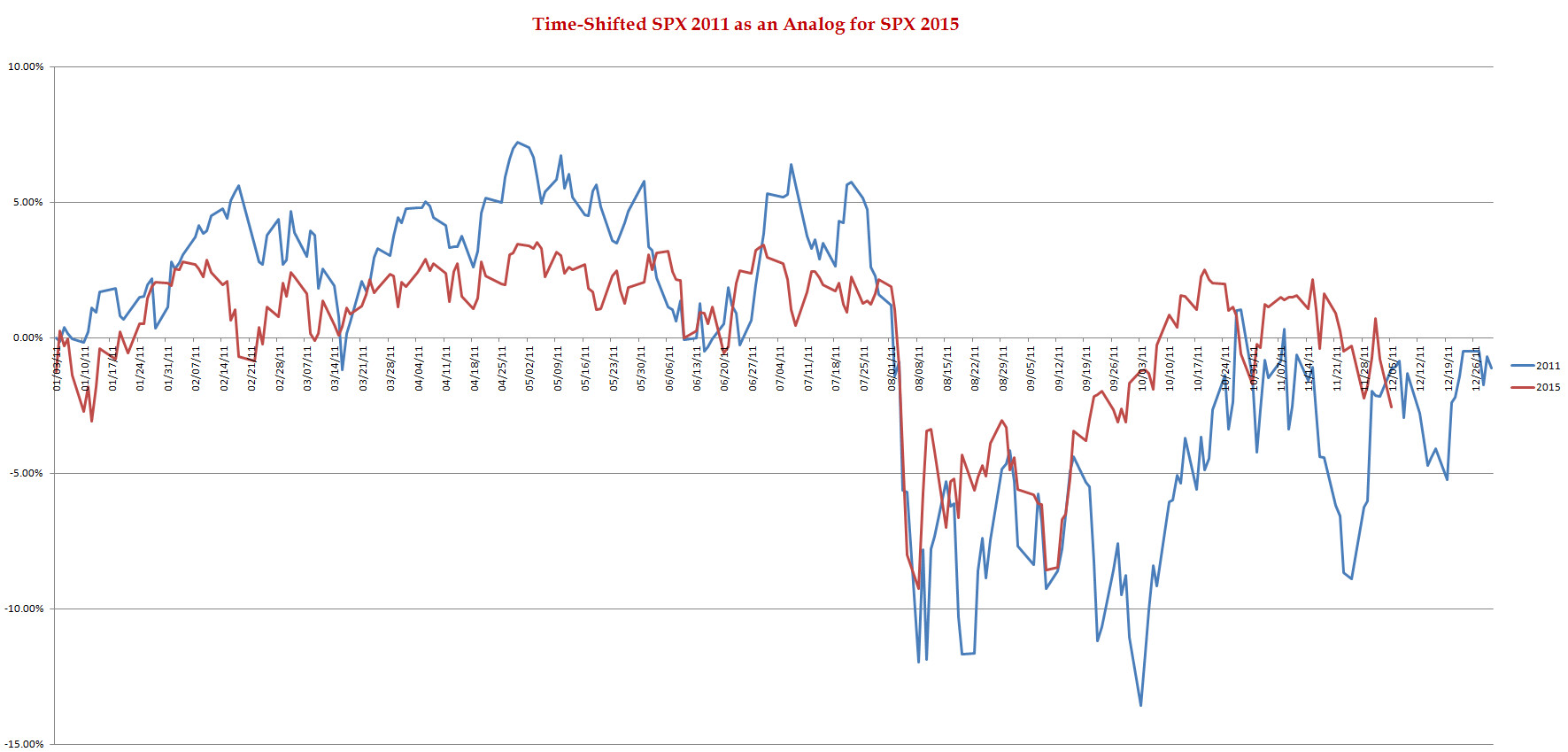 SPX 2011 Time-Shifted Analog for SPX 2015


The Time-Shifted 2011 Analog Chart, in its final waning days, shows that we might have another leg down after a bounce early this week. As we say in the NAVY, fasten your harnesses. Sailors, the ride into the New Year could get rather bumpy.
---

US Treasury T-Notes & T-Bonds Yields Chart

This past week, the 91-day Discount Rate dropped while the rest of Yield Curve rose.

Good luck this week,
Fari Hamzei