Sunday, January 10, 2016 0200ET
Market Timing Charts & Comments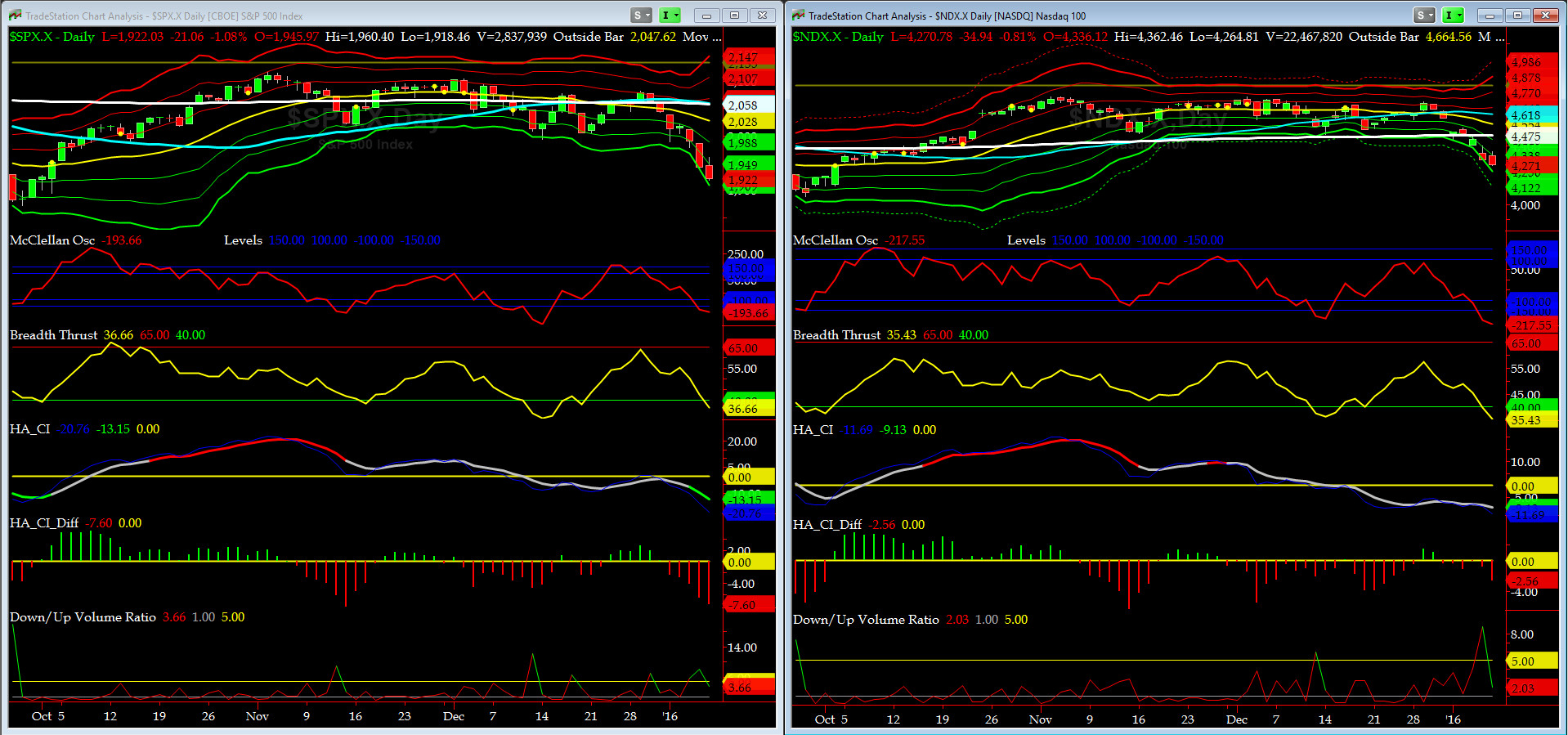 Timer Charts of S&P-500 Cash Index (SPX) + NASDAQ-100 Cash Index (NDX)

SPX had its worst week since Sept 2011 which back then led to a massive FED Intervention and a 4-week rally in October 2011. NDX has had no up days in 2016, down 9 out of last 10 days. McClellan Osc & Breadth Thrust are both in short-term oversold zones.
---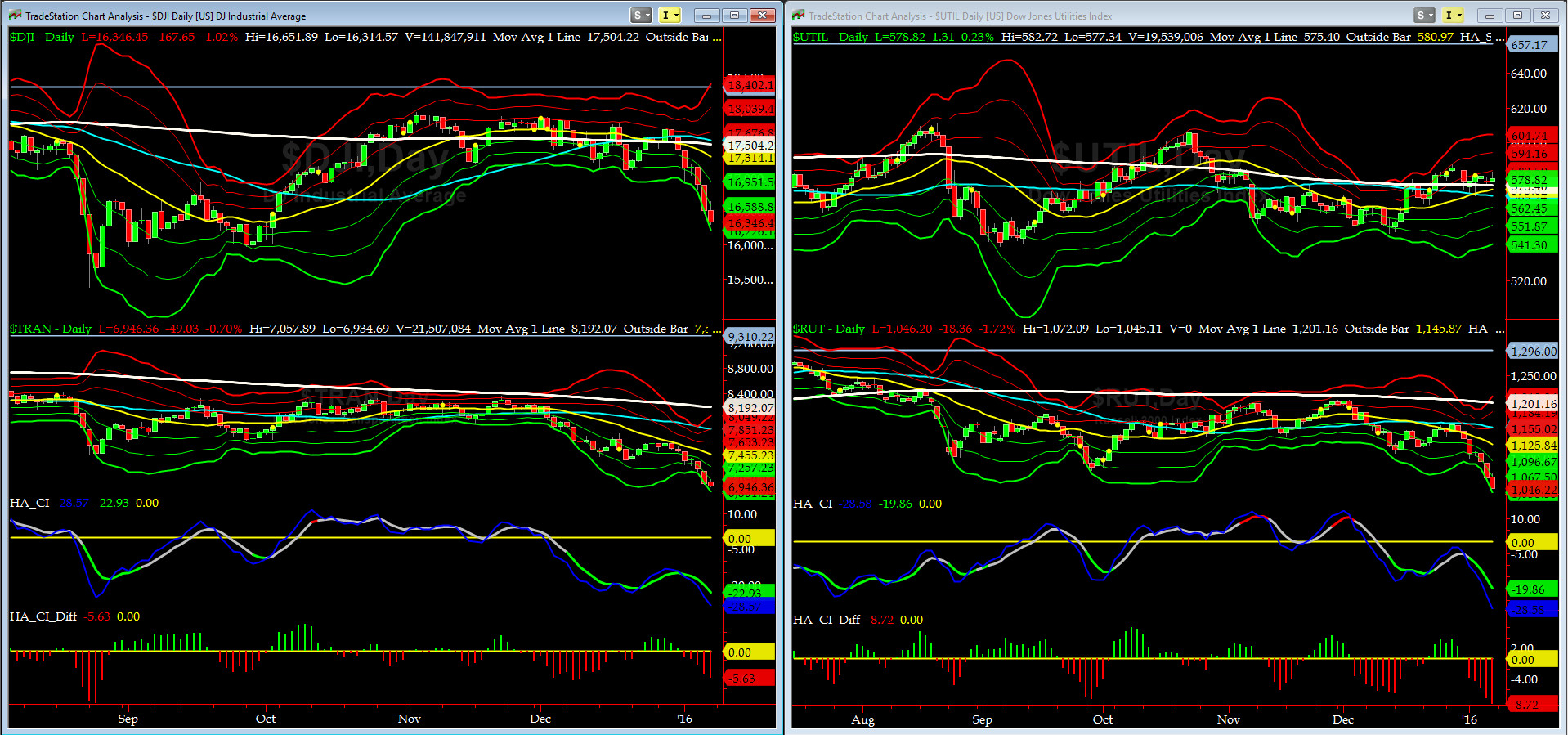 Canaries [in the Coal Mine] Chart for DJ TRAN & RUT Indices

As stated here ad nauseam, both DJ Transports (proxy for economic conditions 6 to 9 months hence) & Russell 2000 Small Caps (proxy for RISK ON/OFF) have been warning of us of a pending violence which we finally witnessed last week. Given their CI readings, ioho, the carnage should be over soon.
---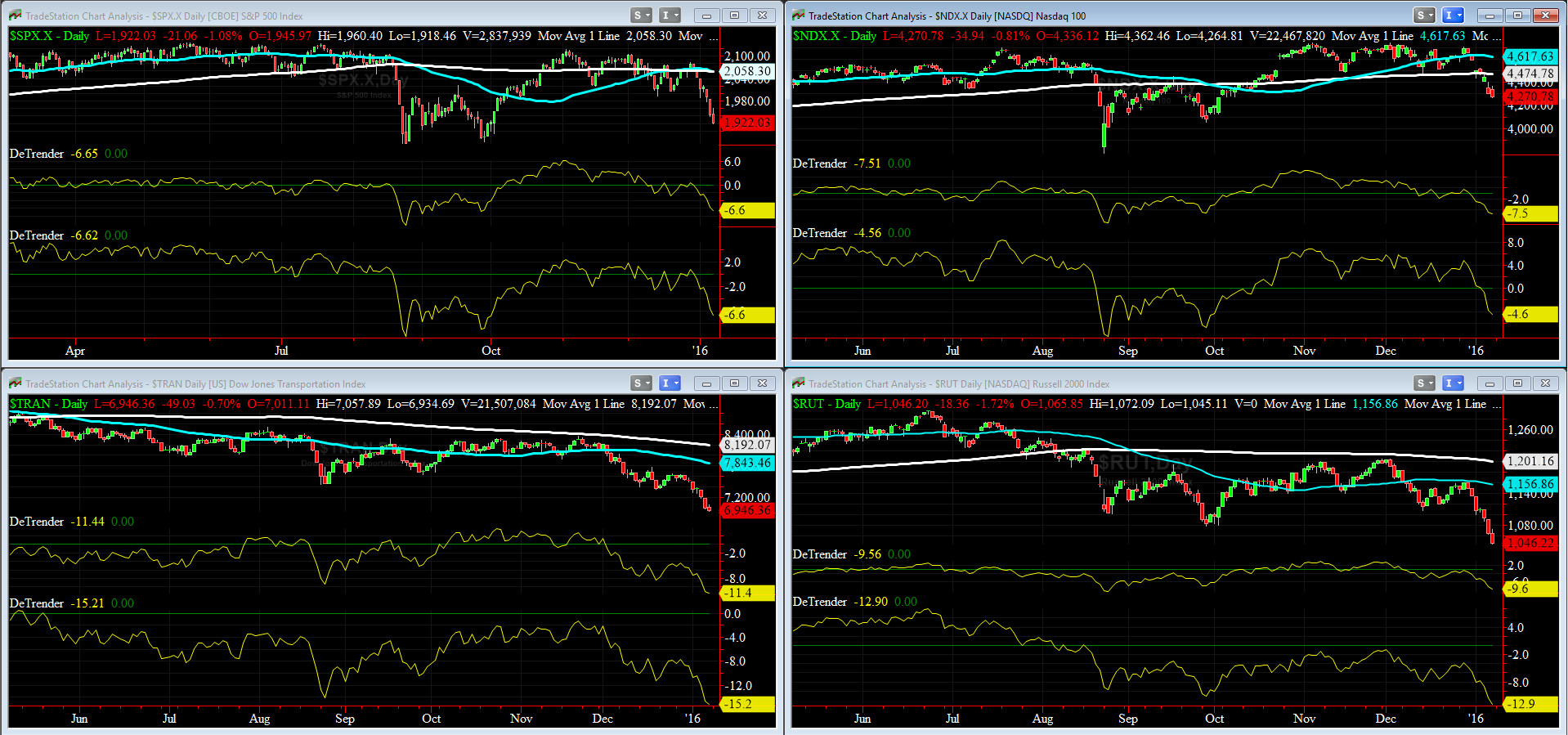 DeTrenders Charts for SPX, NDX, TRAN & RUT Indices

As of Friday Close, all our EIGHT 50DTs & 200DTs are negative with DJ TRAN DT being most negative.

---
Our WEEKLY Timing Model remains on a BUY while our DAILY Timing Model switched to SELL last Tuesday. HA_SP1 is near its -3 sigma while HA_momo is now at -10.6. The new 52wk lows for SPX rose to 91 on Friday, (40 is generally accepted as the threshold for reversal).
---
Vols keep being somewhat tamed given the outsized delta move we have seen. That is a tad puzzling for us right now.

---
so far we have witnessed a number of failed BUY signals by the 5-day TRIN (for NYSE), while TRINQ (for NASDAQ) is a tad above neutral with a 1.3 reading.

---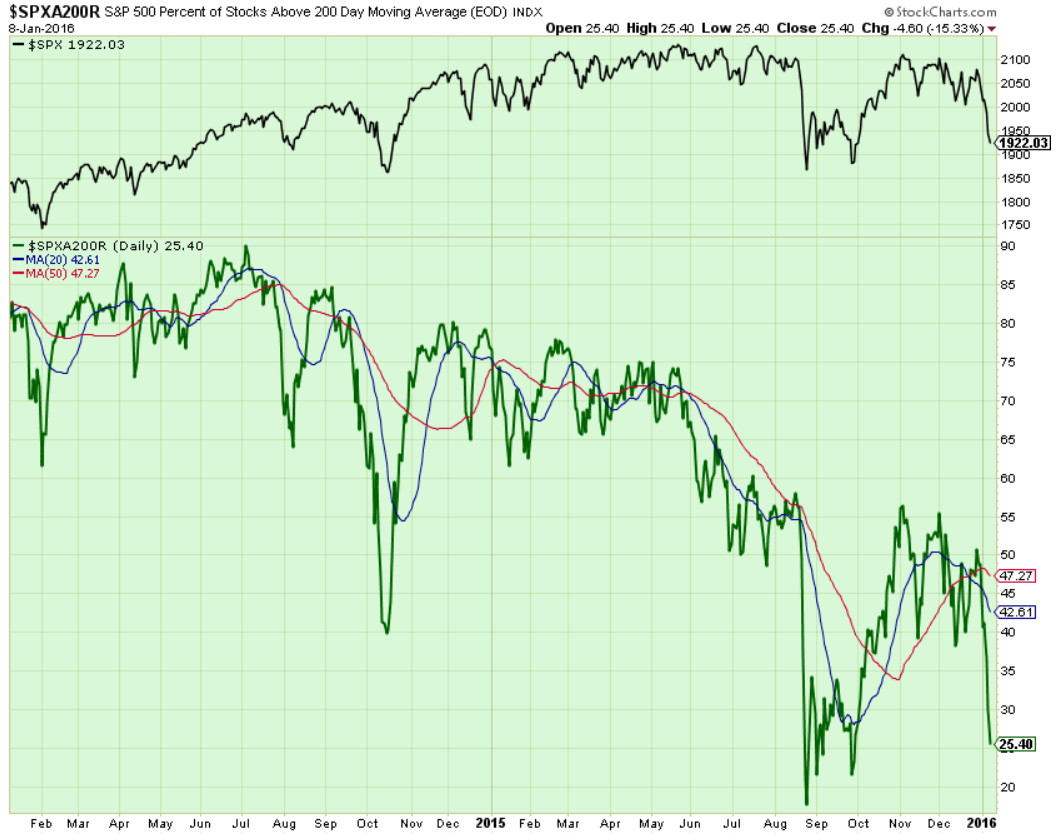 Components of SPX above their respective 200day MA Chart

During the hard sell-off this week, this scoring indicator went straight south and now it is at 25%. Given its distance from its 20 & 50 day MAs, it is a bit worrisome. We should expect a test of 20%, at minimum, before we head back up.

---
On Friday, SPX SKEW (Tail Risk) further moved up a tad to ~139 (which is about its +0.5 sigma). This [relatively] low reading, given the price structure we are in, is also puzzling.

---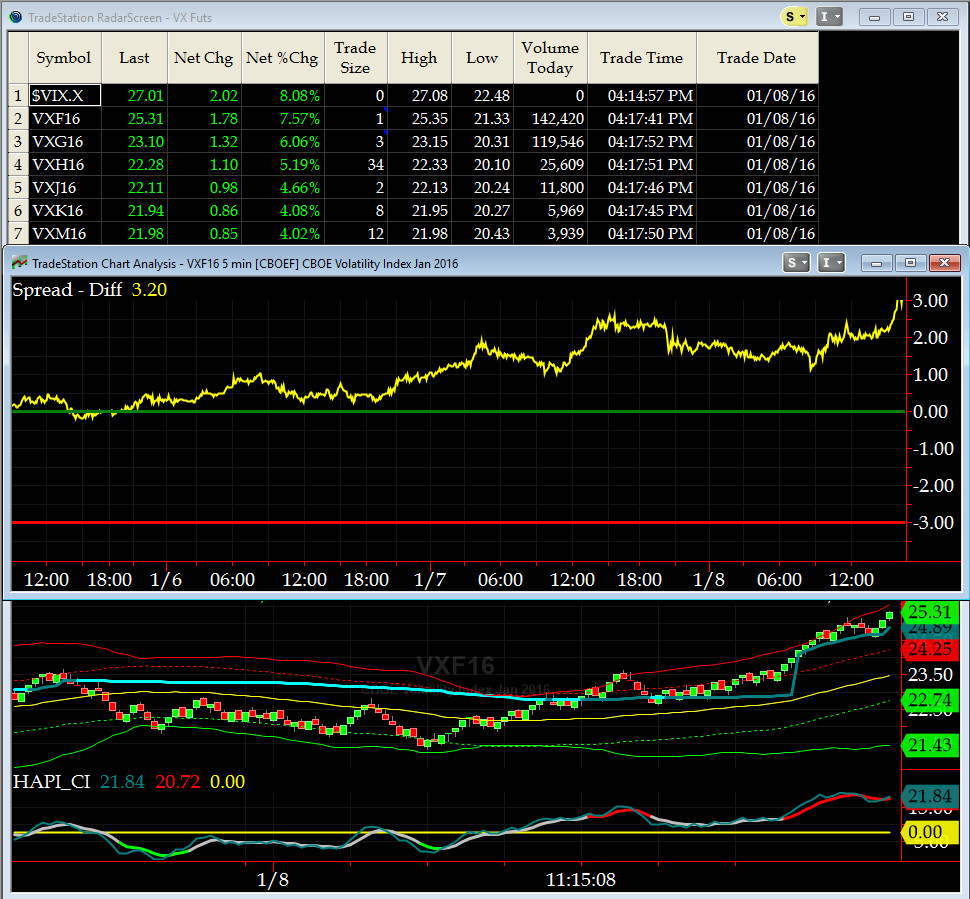 UPDATED 3-month VIX Futures Spread(VX) Chart

Our 3-month VIX Futures Spread (Long JAN16 & Short APR16), closed at over 3.0 on Friday. IOHO, the short-term bottom is in.

---
At ~12, this prop indicator also says the low is in. Worth noting on this chart is that all 3 HAPI StockRSIs have converged to below 10 and that is another indication that the short-term low is in.
---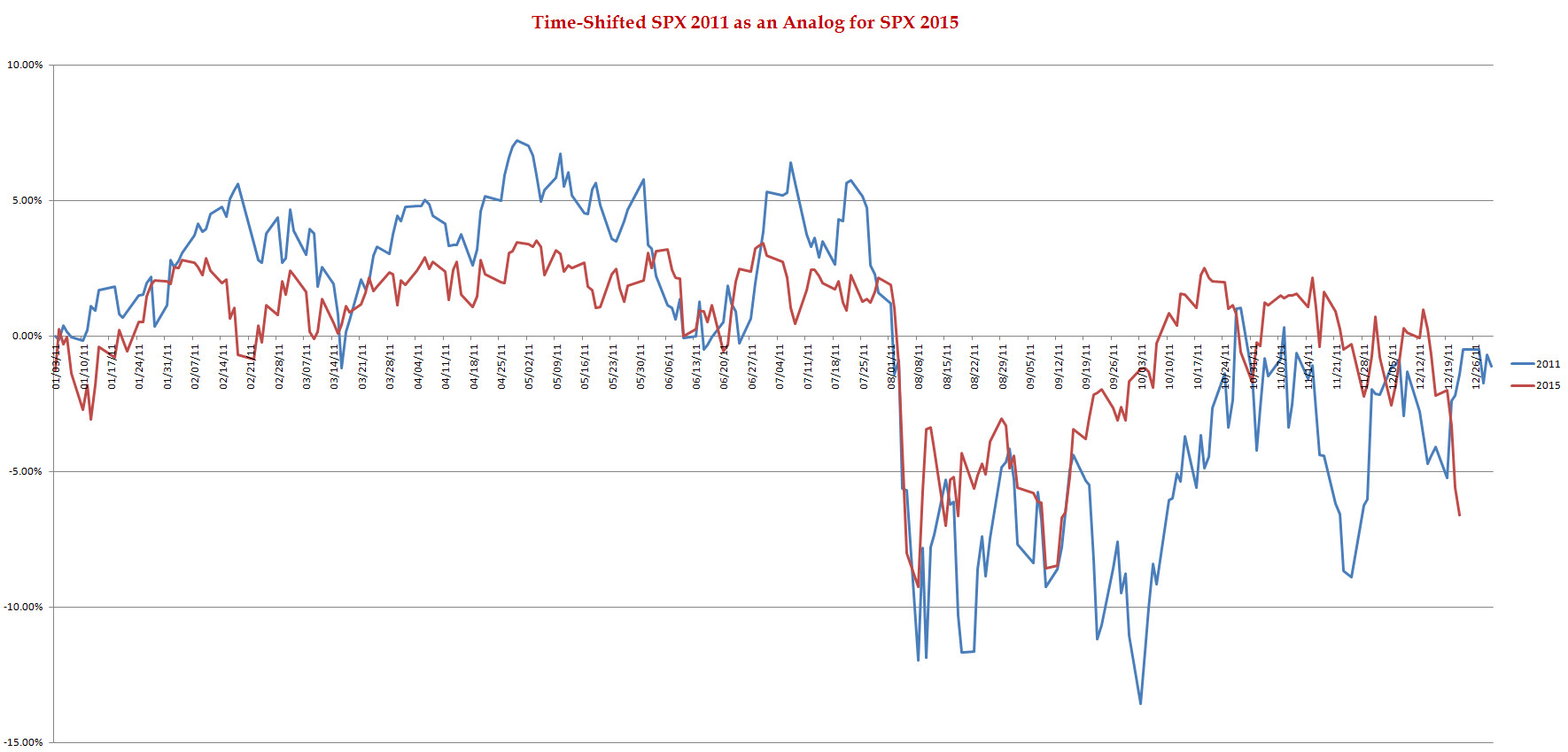 SPX 2011 Time-Shifted Analog for SPX 2015


As expected in the last couple of issues, our coveted Time-Shifted 2011 Analog Chart gave its final signal before it was archived; and yes, we saw a dip, all right. LOL. The search for the 2016 Analog(s) has started and continues into next week.

A note to all students of the markets: Having worked with Analog Charts for about 15 years now, one thing is empirically common among all analogs: They work till they stop working. Keep that in mind.
---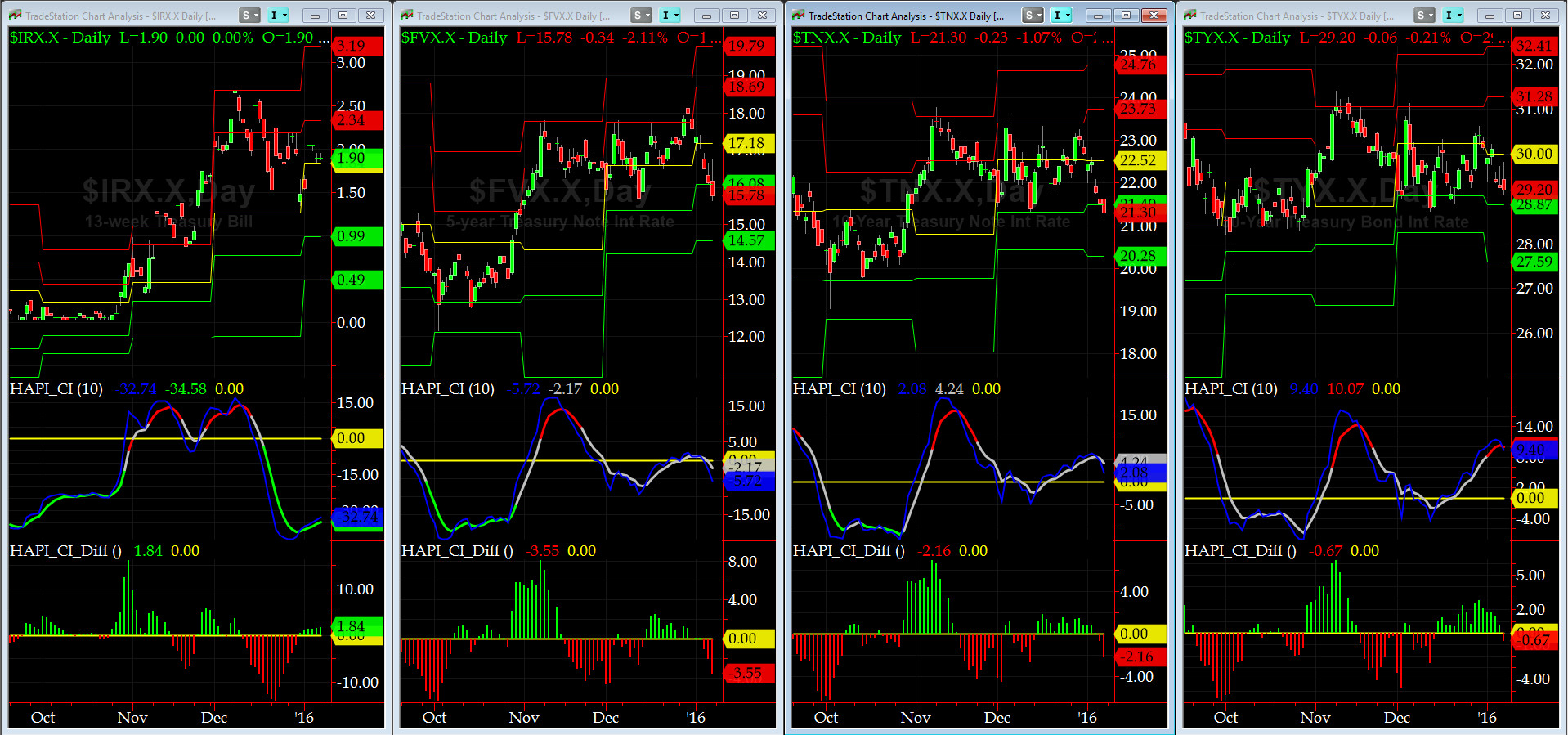 US Treasury T-Notes & T-Bonds Yields Chart

During this past week, the Treasury Complex Yields pulled back across the board, which is in line with flight-to-safety afforded by our strong dollar during recent turbulent times.

Good luck this week,
Fari Hamzei