Saturday, April 9, 2016 1445ET
Market Timing Charts, Analysis & Commentary for Issue #138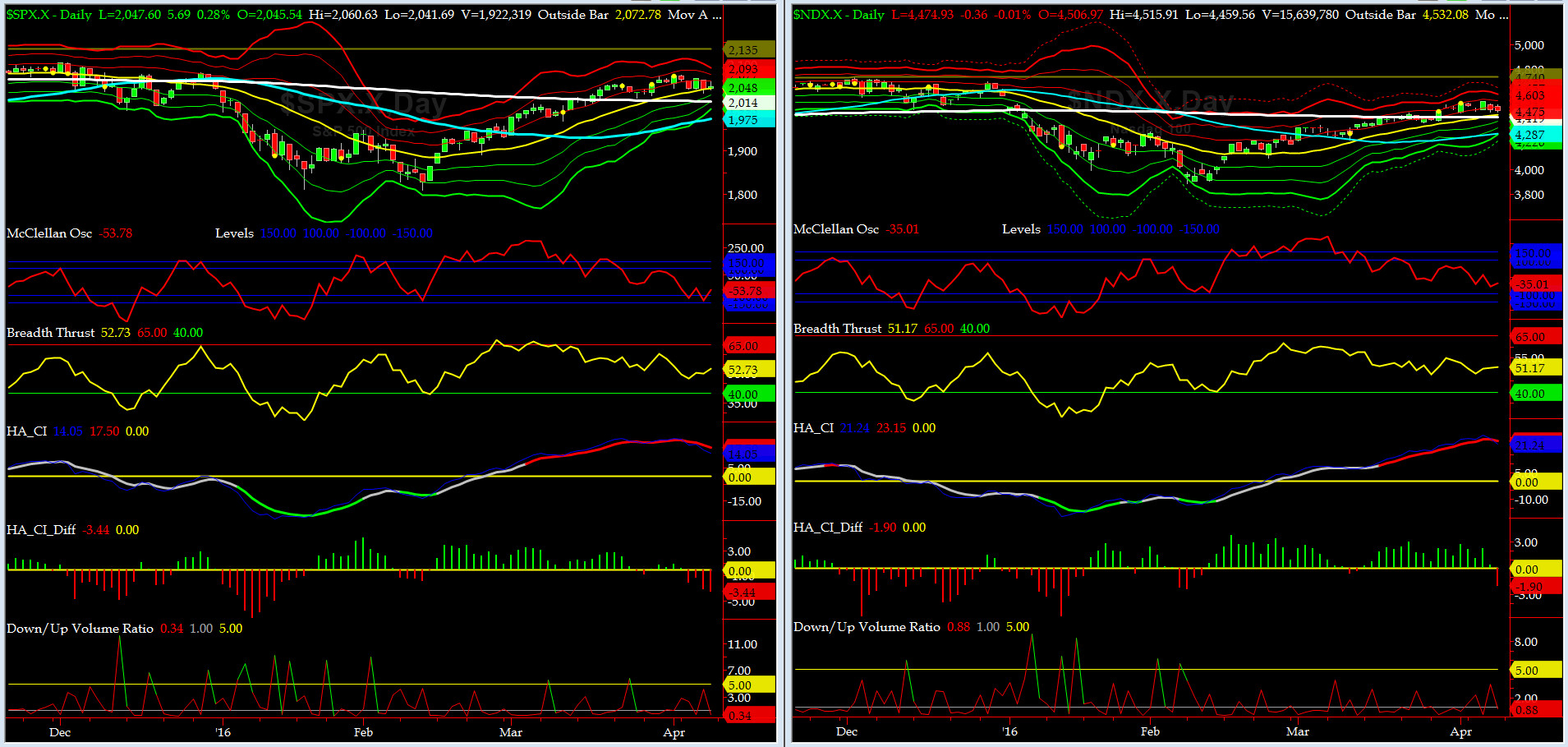 Timer Charts of S&P-500 Cash Index (SPX) + NASDAQ-100 Cash Index (NDX)

Most recent S&P-500 Cash Index (SPX): 2047.60 down -25.18 (down 1.2%) for the week ending on Friday, April 8th, 2016, which closed about near its zero sigma.

SPX ALL TIME INTRADAY HIGH = 2134.72 (reached on Wednesday, May 20th, 2015)
SPX ALL TIME CLOSING HIGH = 2130.82 (reached on Thursday, May 21st, 2015)

Current DAILY +2 Sigma SPX = 2077 with WEEKLY +2 Sigma = 2142
Current DAILY 0 Sigma (20 day MA) SPX = 2045 with WEEKLY 0 Sigma = 1992
Current DAILY -2 Sigma SPX = 2014 with WEEKLY -2 Sigma = 1841

NYSE McClellan Oscillator = -54 (-150 is start of the O/S area; around -275 to -300 area or lower, we go into the "launch-pad" mode, over +150, we are in O/B area)
NYSE Breadth Thrust = 52.73 (40 is considered as oversold and 65 as overbought)

On Friday, after a sizable gap-up in crude, the big boys sold voraciously almost every name during RTH. Now SPX is sitting at 0 sigma with vols collapsing. This won't stand for long. There is a talk of market participants worrying about the Q1 Earnings Season, which will start with AA reporting Monday in after hours.

---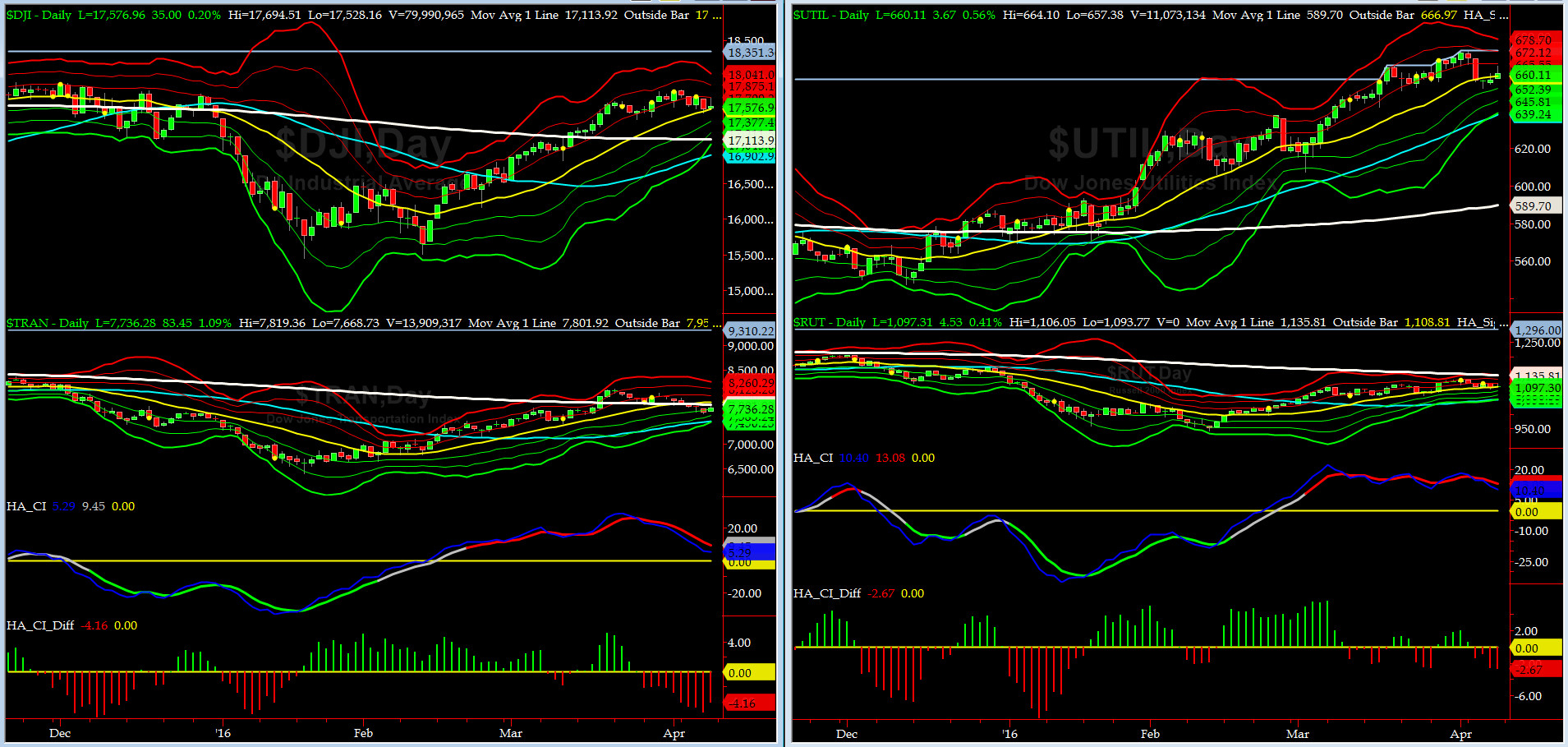 Canaries [in the Coal Mine] Chart for DJ TRAN & RUT Indices

200-Day MA DJ TRAN = 7802 or 0.8% above DJ TRAN (max observed in last 5 yrs = 20.2%, min = -20.3%)
200-Day MA RUT = 1136 or 3.4% above RUT (max observed in last 5 yrs = 21.3%, min = -22.6%)

DJ Transports (proxy for economic conditions 6 to 9 months hence), as discussed here for warranting a closer watch, dropped below its 200 day MA and now it is at its -1 sigma. While, in the past, we have gone up in SPX with DJ TRAN trading downward, it is normally a bad omen for SPX. We shall continue to keep a close watch on this very important index.
Russell 2000 Small Caps (proxy for RISK ON/OFF) is now only up 4.4% over its 50day MA & RISK is heading sideways to down.
---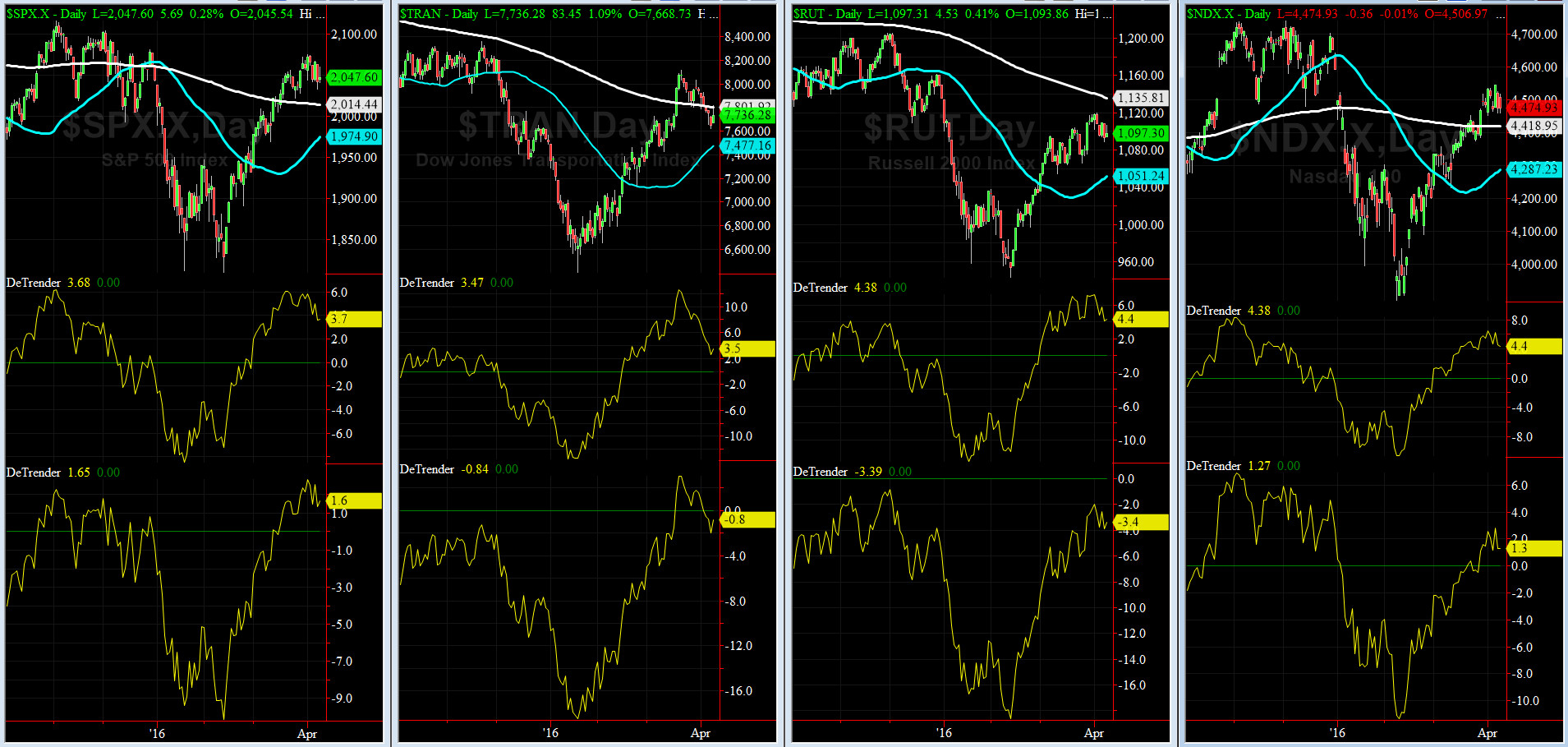 DeTrenders Charts for SPX, NDX, TRAN & RUT Indices

50-Day MA SPX = 1975 or +3.7% below SPX (max observed in last 5 yrs = +8.6%, min = -9.3%)
200-Day MA SPX = 2014 or +1.6% below SPX (max observed in last 5 yrs = 15.2%, min = -14%)

Only TWO of our Eight DeTrenders are negative now (DJ TRAN & RUT 200DTs).

---
WEEKLY Timing Model = on a SELL Signal since Friday 1/29/16 CLOSE
DAILY Timing Model = on a SELL Signal since Friday 4/8/16 CLOSE
Max SPX 52wk-highs reading last week = 60 (over 120-140, the local maxima is in)
Max SPX 52wk-Lows reading last week = 2 (over 40-60, the local minima is in)
HA_SP1 = finally broke its zero sigma this week
HA_Momo = -2.9 (reversals most likely occur above +10 or below -10)

NOTE: Looks like the developing divergences between our HA_momo and HA_SP1 that we have discussed here, may start to work itself into a mild (?) retracement.

---
VIX = 15.4 is now at its zero sigma (remember it's the VIX's vol pattern (its sigma channels) that matters, and not the level of VIX itself (this is per Dr. Robert Whaley, a great mentor and the inventor of original VIX, now called VXO. VIX usually peaks around a test of its +4 sigma).

We were dead wrong re VIX Funeral. Look at its DAILY CI CROSS. Free Soup for All Da Bears.
---
The 5-day TRIN (for NYSE) is still showing a NEUTRAL reading here but the 5-day TRINQ (for NASDAQ) is rising from a near a SELL signal to a NEUTRAL reading.

---

Components of SPX above their respective 200day MA Chart

This past week, this scoring indicator never got past 63%, and now it's about to break its 20 day MA at 58%. Next target is the 55% - 45% zone.

---
SPX SKEW (Tail Risk) = 114 and near its -3 sigma (normal = 120-125, range 100-150)

All Quiet on the Mid-Western Front? Yes, but most likely, that will be temporary, ioho. This reminds us of SKEW action in early Sept last year.

---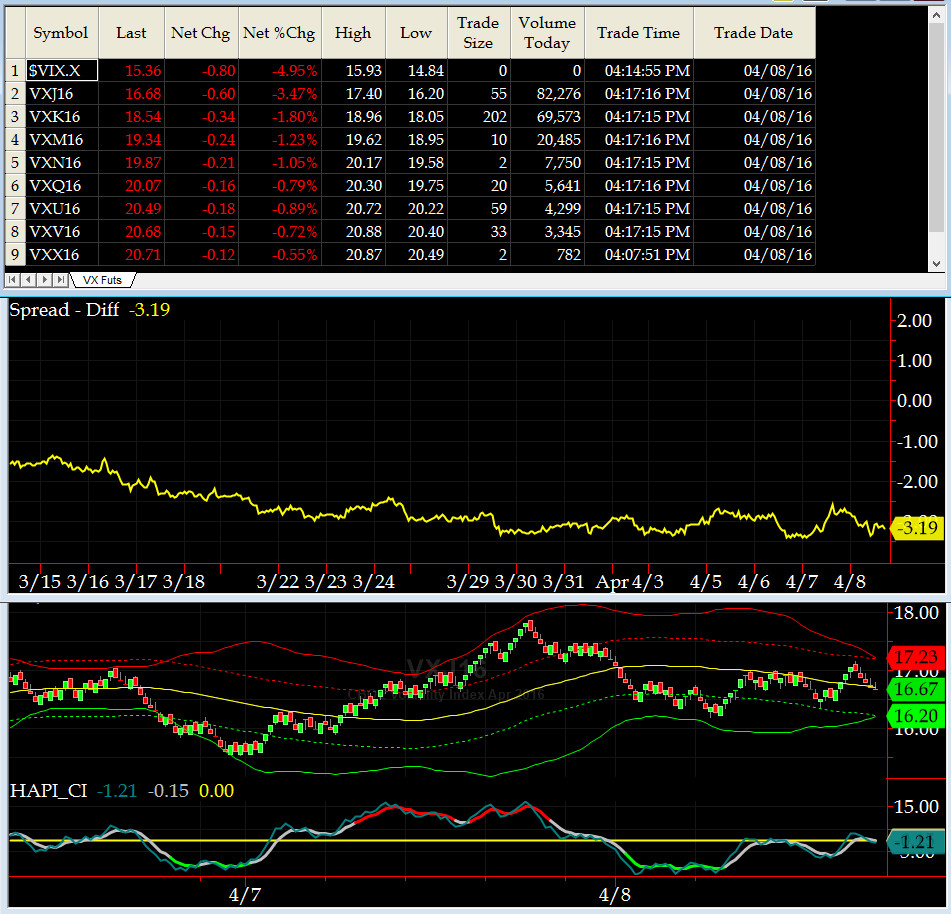 3-month VIX Futures Spread(VX) Chart

Our 3-month VIX Futures Spread (LONG APR16 & SHORT JUL16) closed Friday at about -3.2. This reading is a warning sign for resistance in SPX.
---
HA_SP2 = 46.1 (Buy signal <= 25, Sell Signal >= 75)

At ~46, this prop indicator is back to NEUTRAL zone.
---
---


Is SPX going to turn down? We now think so. The issue is for how long and how far. What is the catalyst? Crude [& DJ TRAN] price action(s), US Elections, Global Terrorism & worry about Q1 2016 Earnings Reports......
---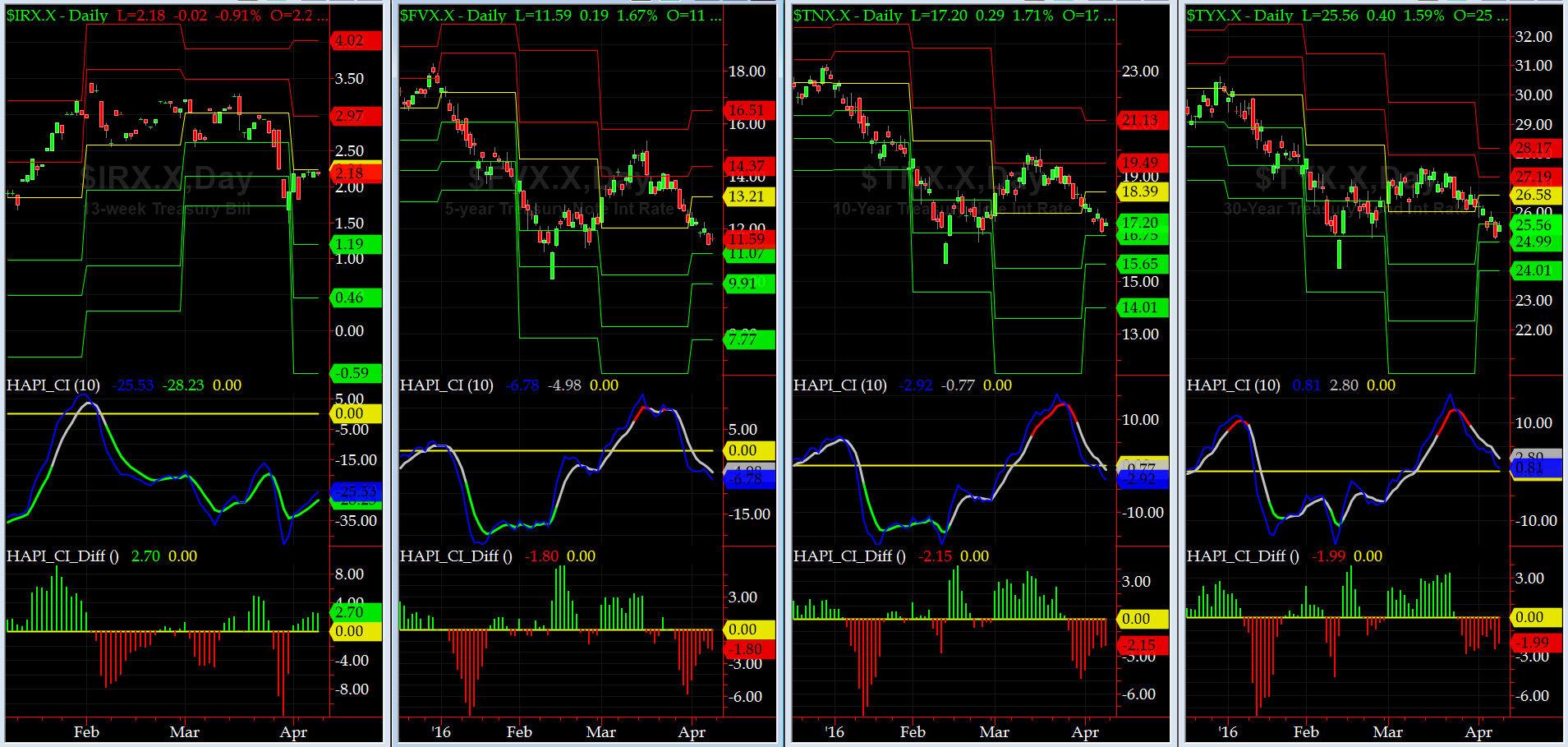 US Treasury T-Notes & T-Bonds Yields Chart

US Treasury Yield Curve again continued to retreat this past week nearly its MONTHLY Support1 for FIVE and TEN Year Notes and SUPPORT 2 for THIRTY Year Bonds. Ioho, Equity Players are getting a tad more defensive.

Fari Hamzei