Saturday, June 11, 2016 1730ET
Market Timing Charts, Analysis & Commentary for Issue #146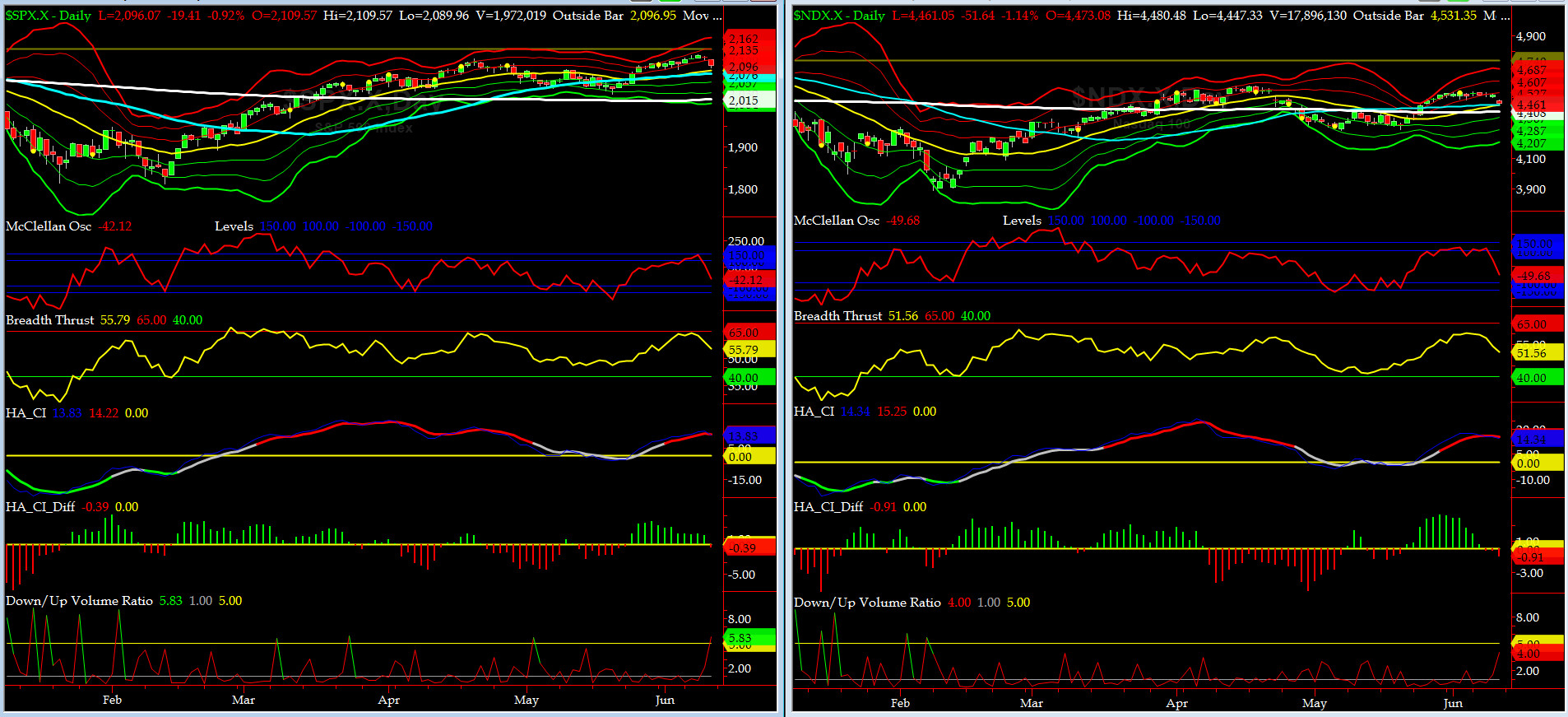 Timer Charts of S&P-500 Cash Index (SPX) + NASDAQ-100 Cash Index (NDX)

Most recent S&P-500 Cash Index (SPX): 2096.07 down -3.06 (down -0.1%) for the week ending on Friday, June 10th, 2016, which closed above its 1/2 sigma.

SPX ALL TIME INTRADAY HIGH = 2134.72 (reached on Wednesday, May 20th, 2015)
SPX ALL TIME CLOSING HIGH = 2130.82 (reached on Thursday, May 21st, 2015)

Current DAILY +2 Sigma SPX = 2135 with WEEKLY +2 Sigma = 2167
Current DAILY 0 Sigma (20 day MA) SPX = 2083 with WEEKLY 0 Sigma = 2023
Current DAILY -2 Sigma SPX = 2030 with WEEKLY -2 Sigma = 1880

NYSE McClellan Oscillator = -42 (-150 is start of the O/S area; around -275 to -300 area or lower, we go into the "launch-pad" mode, over +150, we are in O/B area)
NYSE Breadth Thrust = 56 (40 is considered as oversold and 65 as overbought)

As discussed/targeted last week, SPX made multi-month highs, at least at the margin. Brexit became an issue on Friday and we should get a tad defensive. Admiral & I peeled off some Long ETF Call Spreads we had on in our portfolio in last two weeks.... and our timing could not have been better....or was it our luck?

---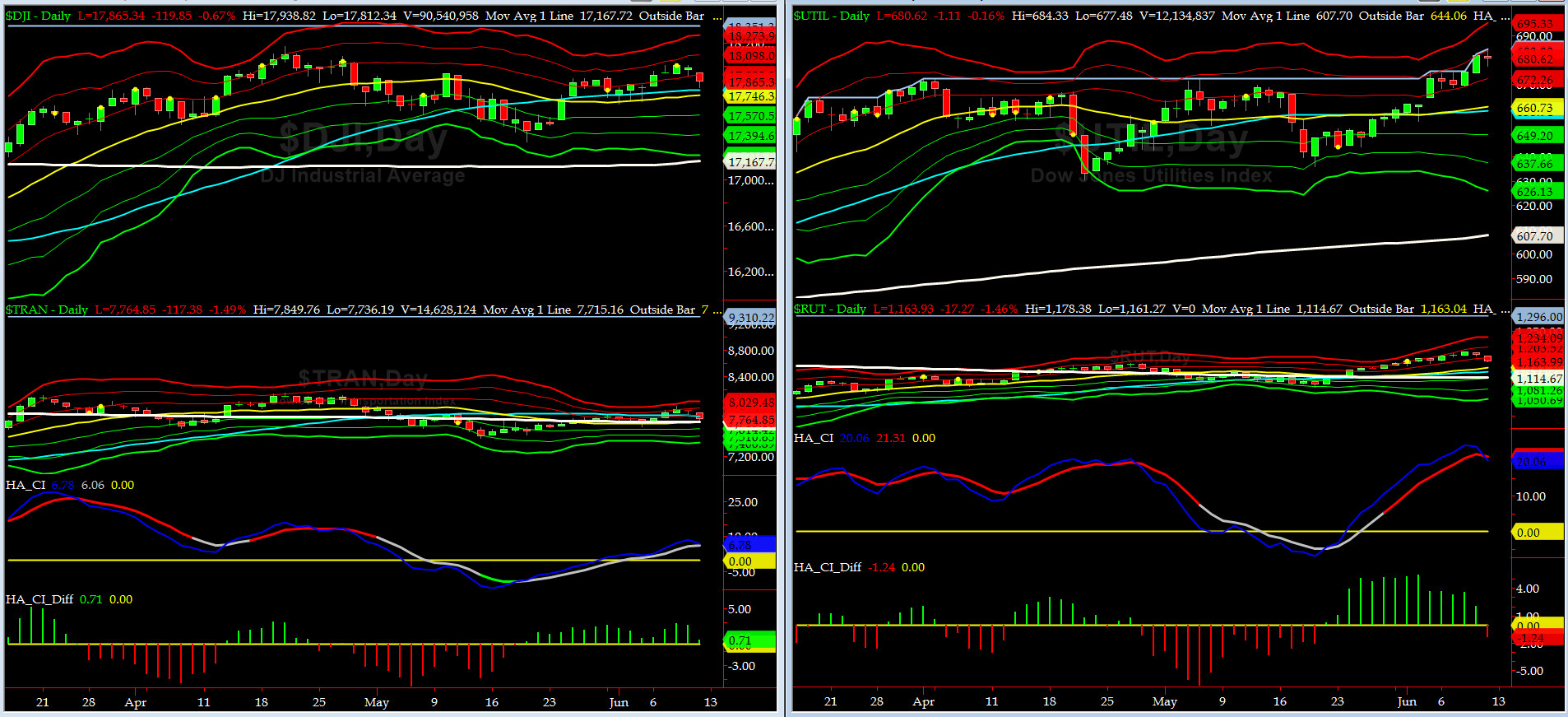 Canaries [in the Coal Mine] Chart for DJ TRAN & RUT Indices

200-Day MA DJ TRAN = 7715 or 0.6% below DJ TRAN (max observed in last 5 yrs = 20.2%, min = -20.3%)
200-Day MA RUT = 1115 or 4.4% below RUT (max observed in last 5 yrs = 21.3%, min = -22.6%)

DJ Transports (proxy for economic conditions 6 to 9 months hence) ended up flat for the week.
Russell 2000 Small Caps (proxy for RISK ON/OFF) pulled back after hitting 1190 print (our target was: "watch for 1195-1200 area").
---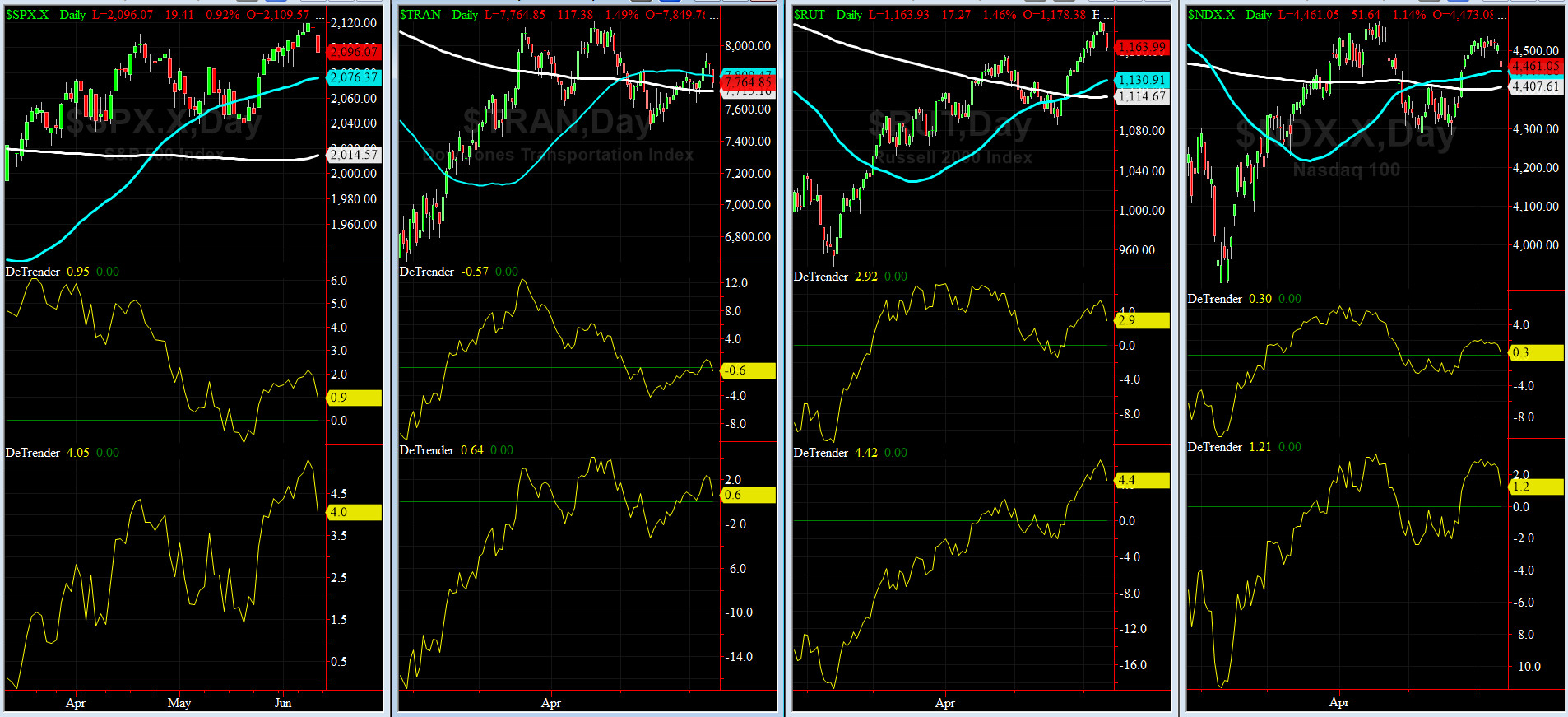 DeTrenders Charts for SPX, NDX, TRAN & RUT Indices

50-Day MA SPX = 2076 or 0.9% below SPX (max observed in last 5 yrs = +8.6%, min = -9.3%)
200-Day MA SPX = 2015 or 4.0% below SPX (max observed in last 5 yrs = 15.2%, min = -14%)

Again, this week, SEVEN of our Eight DeTrenders again remained POSITIVE. DeTrender for RUT, again, is worth watching this week.

---
WEEKLY Timing Model = on a BUY Signal since Friday 4/15/16 CLOSE
DAILY Timing Model = on a BUY Signal since Wednesday 5/25/16 CLOSE
Max SPX 52wk-highs reading last week = 51 (over 120-140, the local maxima is in)
Max SPX 52wk-Lows reading last week = 1 (over 40-60, the local minima is in)
HA_SP1 = at about its zero sigma channels
HA_Momo = -2.7(reversals most likely occur above +10 or below -10)


---
VIX = 17.03 is now at +2.5 sigma (remember it's the VIX's vol pattern (its sigma channels) that matters, and not the level of VIX itself (this is per Dr. Robert Whaley, a great mentor and the inventor of original VIX, now called VXO). VIX usually peaks around a test of its +4 sigma).

These days we are most focused on OVX (Crude Oil Vol). On Friday, after July WTI hit @Capt_Tiko's target of 51.60, it sank by 5.4% (must be the Albacore Tuna he loves so much... GOT TUNA?). And, OVX, for the first time in 2 months, crossed its zero sigma !!
---
Again, NO SIGNAL HERE........
---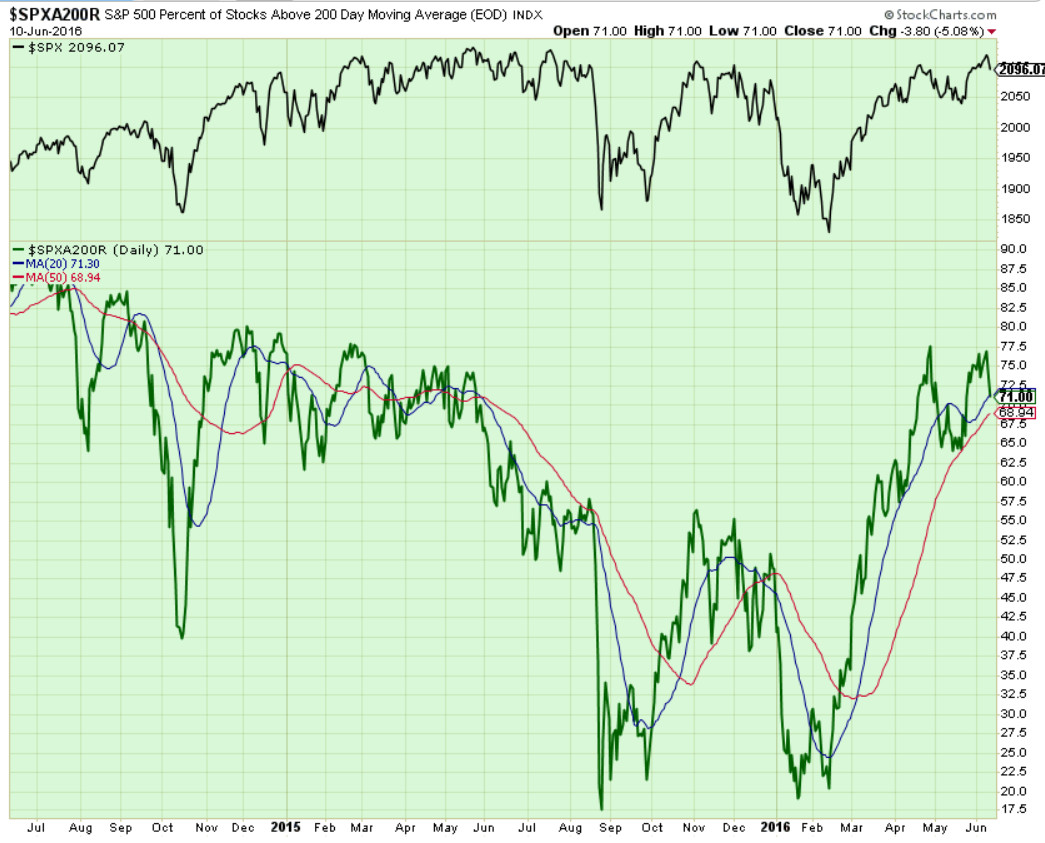 Components of SPX above their respective 200day MA Chart

This scoring indicator is stuck at 75%. What is next? Most likely a bit of easing off before we head up higher again.

---
SPX SKEW (Tail Risk) = rose to 133 and very near its +2 sigma again (normal = 120-125, range 100-150)

All Quiet on the Mid-Western Front? No mas.... SKEW's sigma channels are opening up and its zero sigma line has a positive slope. Pay attention Sailors, this is not Air National Guard.

---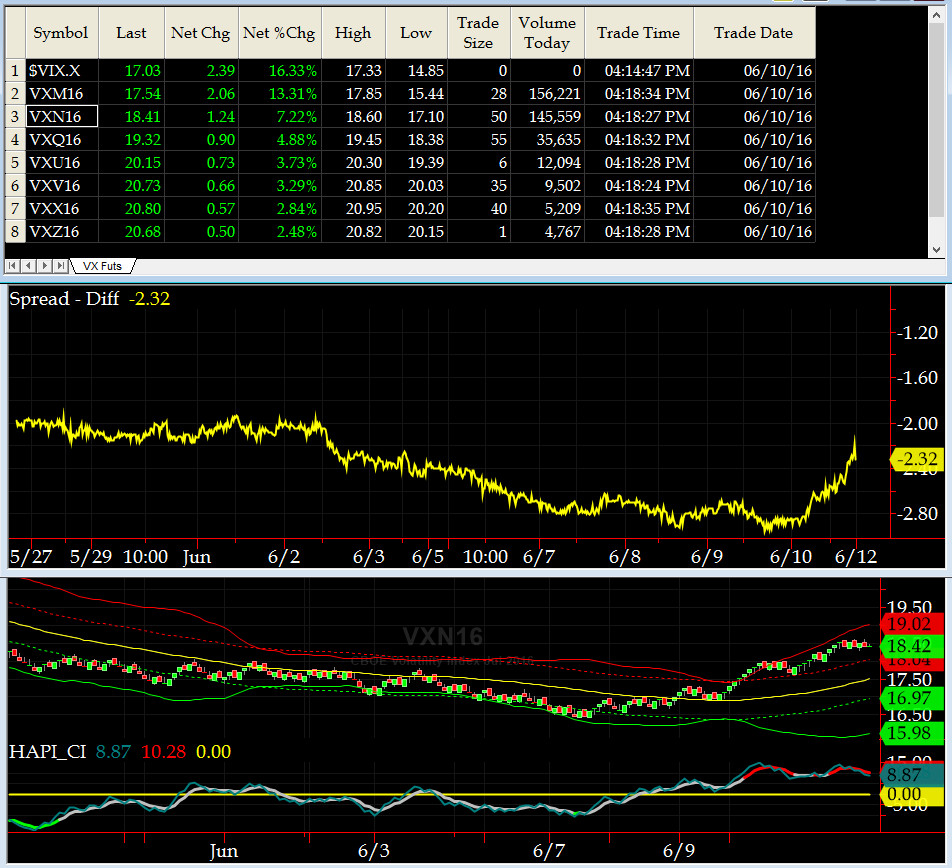 3-month VIX Futures Spread(VX) Chart

Our 3-month VIX Futures Spread (LONG JUL16 & SHORT OCT16) closed at -2.32 on Friday. Market finally pulled from its latest local maxima.
---
HA_SP2 = 40 (Buy signal <= 25, Sell Signal >= 75)

At ~40 after hitting 81, this prop indicator is saying: ROTATE now now now!
---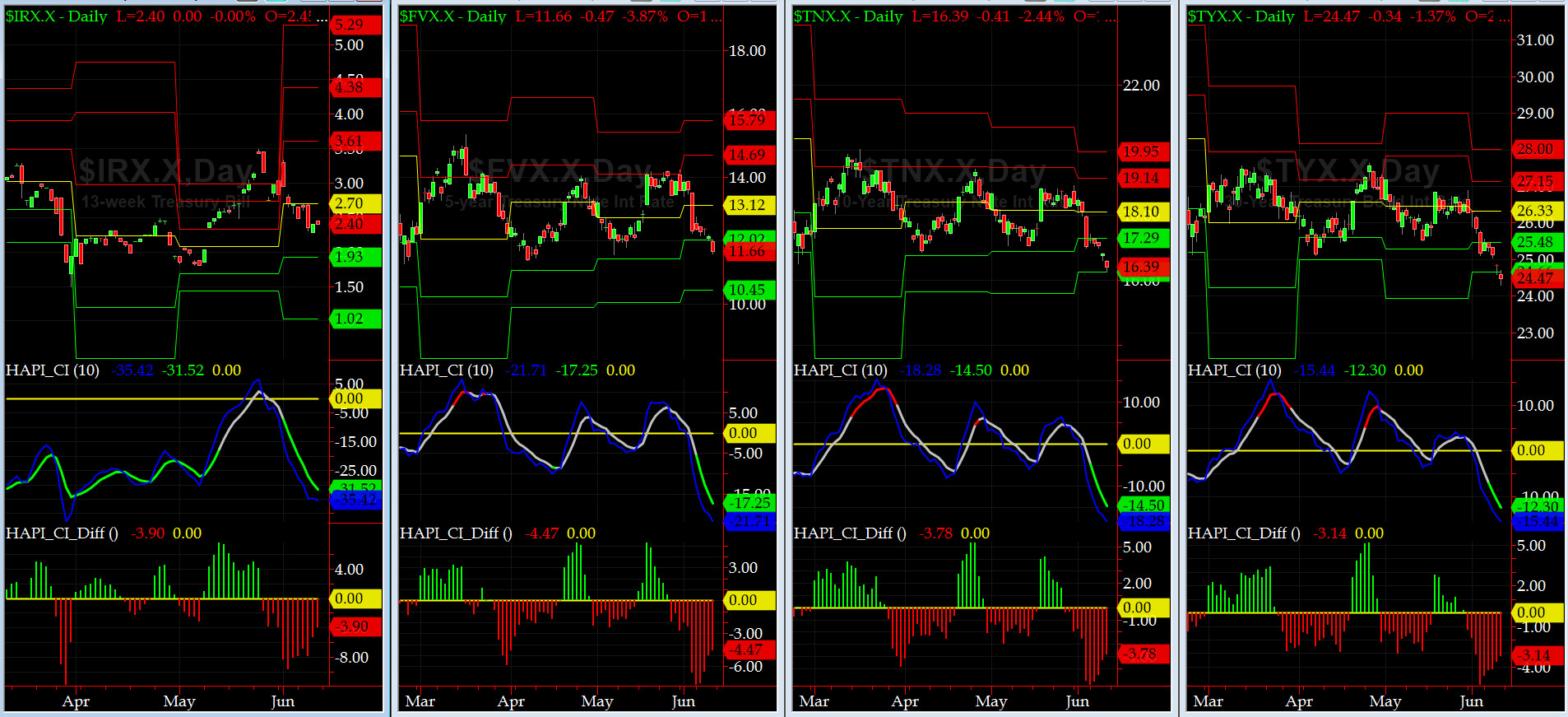 US Treasury T-Notes & T-Bonds Yields Chart

Starting on Thursday and continued into Friday, US Treasury Yield Curve got whacked again as Treasury PRICES marched higher, mainly due to Brexit polls.

Fari Hamzei