Saturday, June 25, 2016 1200ET
Market Timing Charts, Analysis & Commentary for Issue #148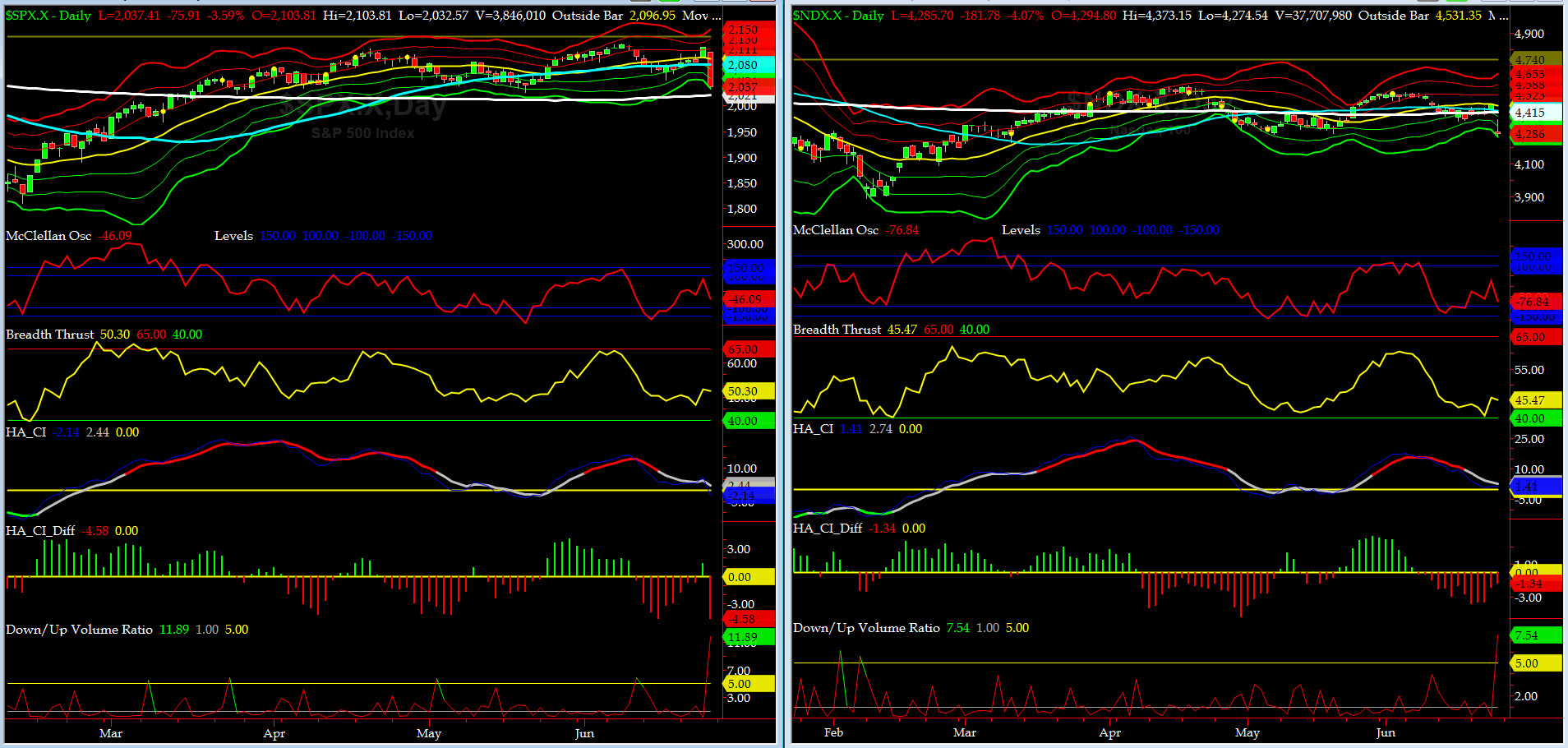 Timer Charts of S&P-500 Cash Index (SPX) + NASDAQ-100 Cash Index (NDX)

Most recent S&P-500 Cash Index (SPX): 2037.41 down -33.81 (down -1.63%) for the week ending on Friday, June 24th, 2016, which closed above its -3 sigma.

SPX ALL TIME INTRADAY HIGH = 2134.72 (reached on Wednesday, May 20th, 2015)
SPX ALL TIME CLOSING HIGH = 2130.82 (reached on Thursday, May 21st, 2015)

Current DAILY +2 Sigma SPX = 2130 with WEEKLY +2 Sigma = 2159
Current DAILY 0 Sigma (20 day MA) SPX = 2092 with WEEKLY 0 Sigma = 2038
Current DAILY -2 Sigma SPX = 2053 with WEEKLY -2 Sigma = 1916

NYSE McClellan Oscillator = -46 (-150 is start of the O/S area; around -275 to -300 area or lower, we go into the "launch-pad" mode, over +150, we are in O/B area)
NYSE Breadth Thrust = 50 (40 is considered as oversold and 65 as overbought)

Remember BUY the Rumor, SELL the [BAD] News? And, in the mean time, SPX puts in its 2nd WEEKLY Outside Bar Reversal for CY 2016.
---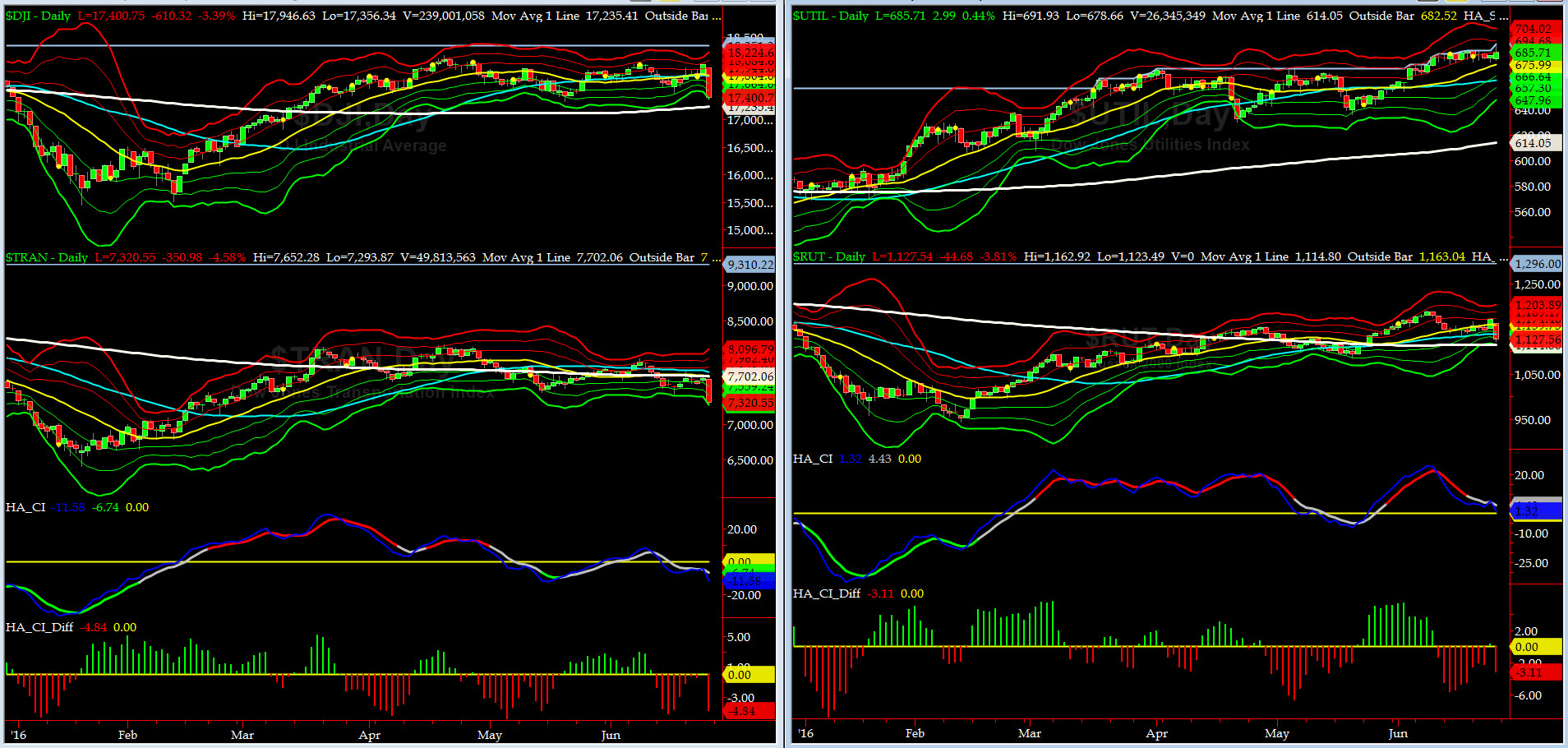 Canaries [in the Coal Mine] Chart for DJ TRAN & RUT Indices

200-Day MA DJ TRAN = 7702 or 1.6% above DJ TRAN (max observed in last 5 yrs = 20.2%, min = -20.3%)
200-Day MA RUT = 1115 or 2.7% below RUT (max observed in last 5 yrs = 21.3%, min = -22.6%)

DJ Transports (proxy for economic conditions 6 to 9 months hence) chart pattern is looking awful. It closed at its -3 sigma on Friday.
Russell 2000 Small Caps (proxy for RISK ON/OFF) pulled back sharply this week but bounced off its 50-week MA (1131). RISK-ON is waning.
---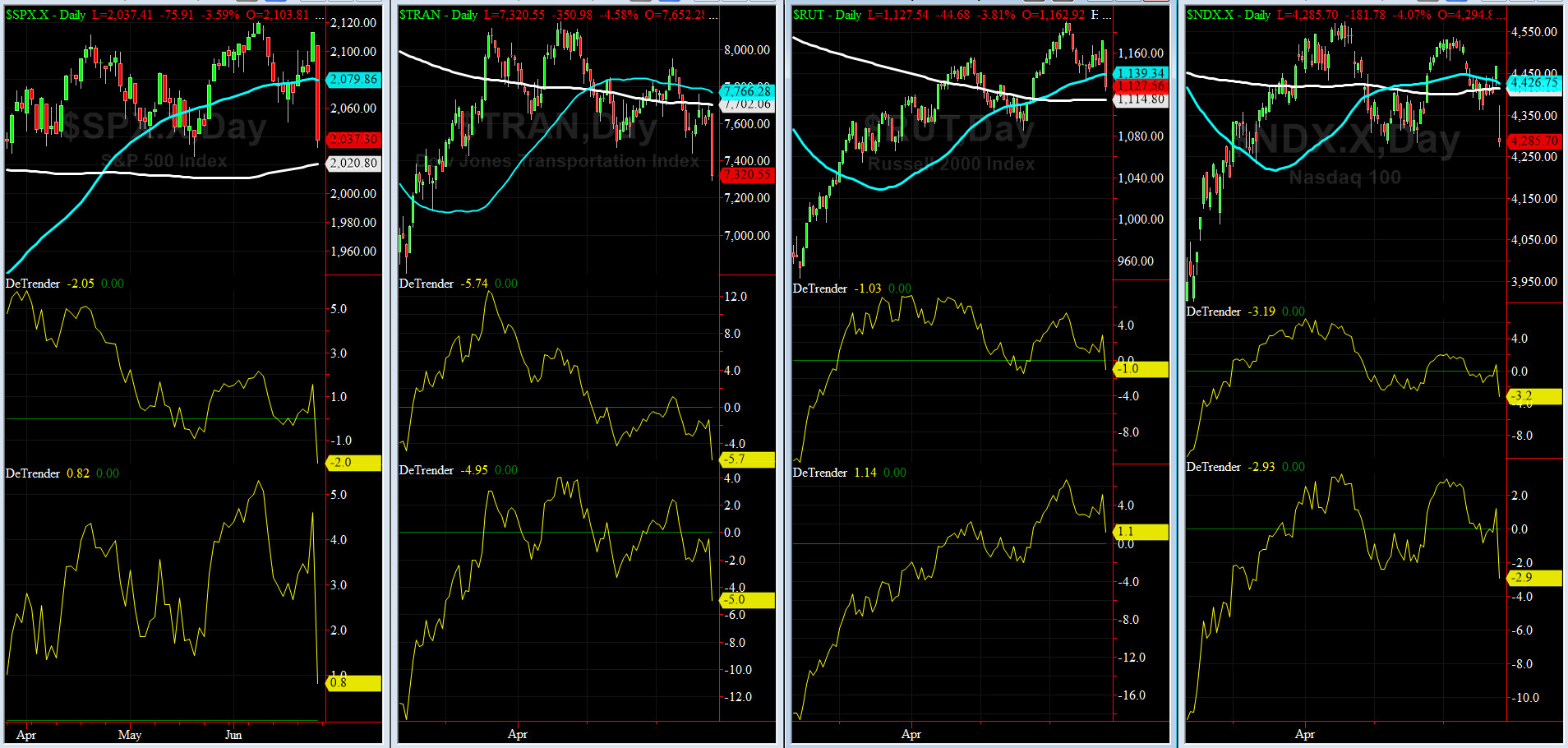 DeTrenders Charts for SPX, NDX, TRAN & RUT Indices

50-Day MA SPX = 2080 or 2.0% above SPX (max observed in last 5 yrs = +8.6%, min = -9.3%)
200-Day MA SPX = 2021 or 0.8% below SPX (max observed in last 5 yrs = 15.2%, min = -14%)

This week SEVEN of our Eight DeTrenders are NEGATIVE. DeTrenders for TRAN & RUT are worth watching here.

---
WEEKLY Timing Model = on a BUY Signal since Friday 4/15/16 CLOSE
DAILY Timing Model = on a BUY Signal since Thursday 6/23/16 CLOSE
Max SPX 52wk-highs reading last week = 53 (over 120-140, the local maxima is in)
Max SPX 52wk-Lows reading last week = 12 (over 40-60, the local minima is in)
HA_SP1 = at its zero sigma channels
HA_Momo = -0.7 (reversals most likely occur above +10 or below -10)

Worth noting: SPX outside bar reversal on the WEEKLY Chart (left hand window). Last one we saw this year was in the week ending on Feb 5th.


---
VIX = 25.76 is now nearing +3 sigma (remember it's the VIX's vol pattern (its sigma channels) that matters, and not the level of VIX itself (this is per Dr. Robert Whaley, a great mentor and the inventor of original VIX, now called VXO). VIX usually peaks around a test of its +4 sigma).

Notice first sign of trouble came on June 13 with VIX. Although it closed at 18.2, its HOD (21.01) was very close to its +4 sigma (21.86). we should see a pull back in VIX shortly.
---
Again, NO SIGNAL HERE........
---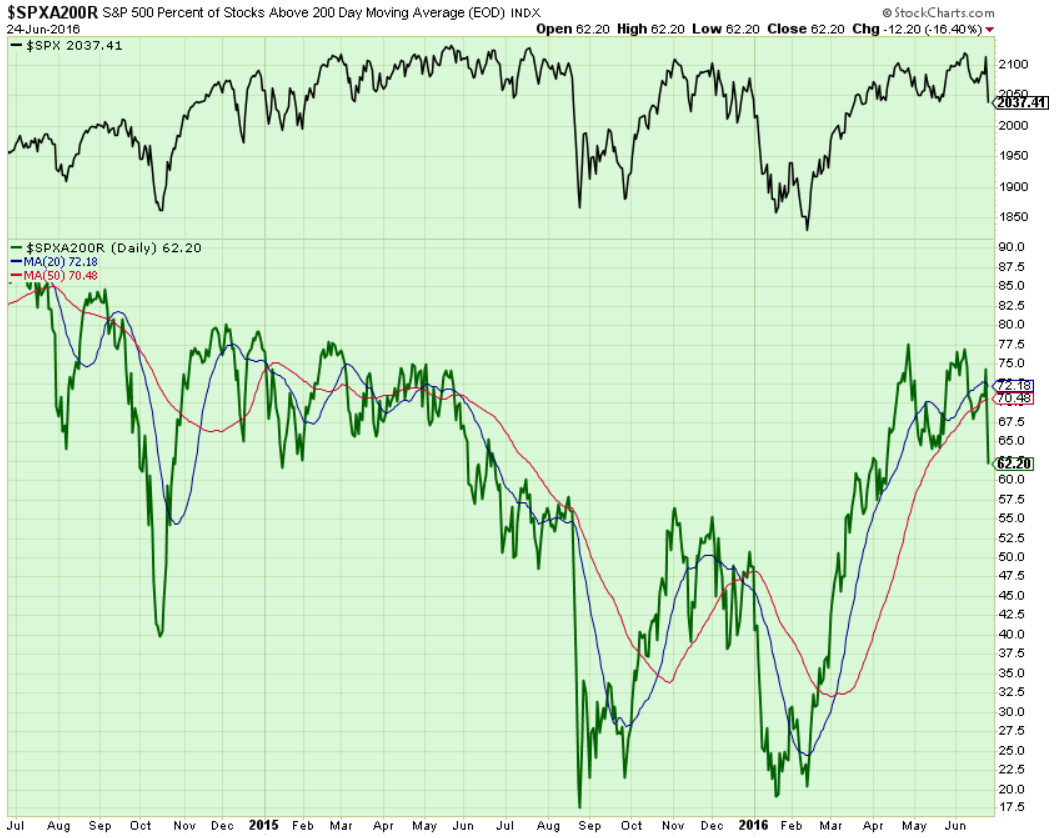 Components of SPX above their respective 200day MA Chart

This scoring indicator is stuck at 62%. Last week we wrote: "What is next? Most likely a retest of 60%.....note the bearish divergence (June high vs May)...." GOT TUNA?

---
SPX SKEW (Tail Risk) = rose to 143 and about its +1.5 sigma again (normal = 120-125, range 100-150)

All Quiet on the Mid-Western Front? Thursday night, SPX SKEW hit 145.70, only 18 basis point below its highest reading in CY 2016 (design max is 150) at +1.5 sigma channel. Are we heading for an outlier event shortly? Based on the current pattern of SKEW (TailRisk), some smart money players think so.
We are planning a "Summit with Tiko" this Fourth of July. We shall return to Cape Naples more enlightened.

---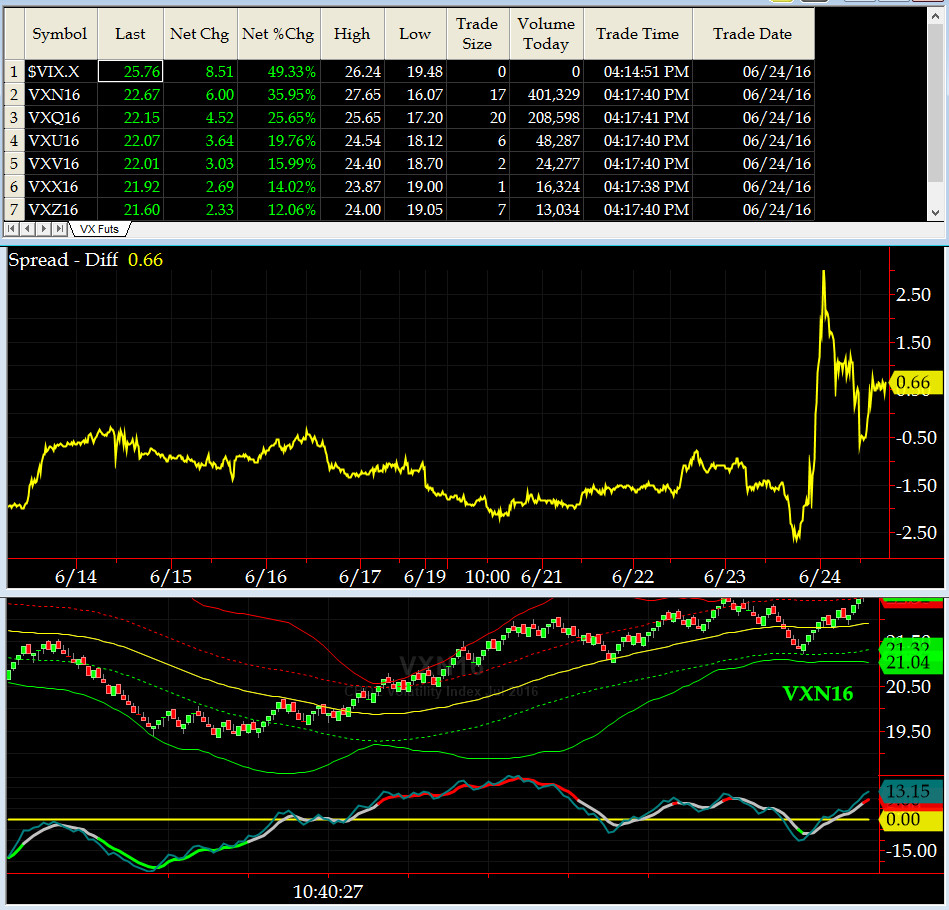 3-month VIX Futures Spread(VX) Chart

Our 3-month VIX Futures Spread (LONG JUL16 & SHORT OCT16) closed at 0.66 on Friday. As you can tell, Thursday Night & Friday this spread went wild. My eyes & Capt Tiko's were glued to this chart (slept only 3 hrs that night).
---
HA_SP2 = 28 (Buy signal <= 25, Sell Signal >= 75)

Upon Thursday's Close, SP2 hit 75.48 (in Overbought territory). Closed on Friday just above Oversold (27.94). We wrote this indicator during the dotcom boom (circa 1998-1999). We have made only one change to it recently (Dec 14), and, never have seen a move like we saw on Friday, ever.
---


Now, this chart says expect about a 1.5% lower (for a retest failure) in near term.
---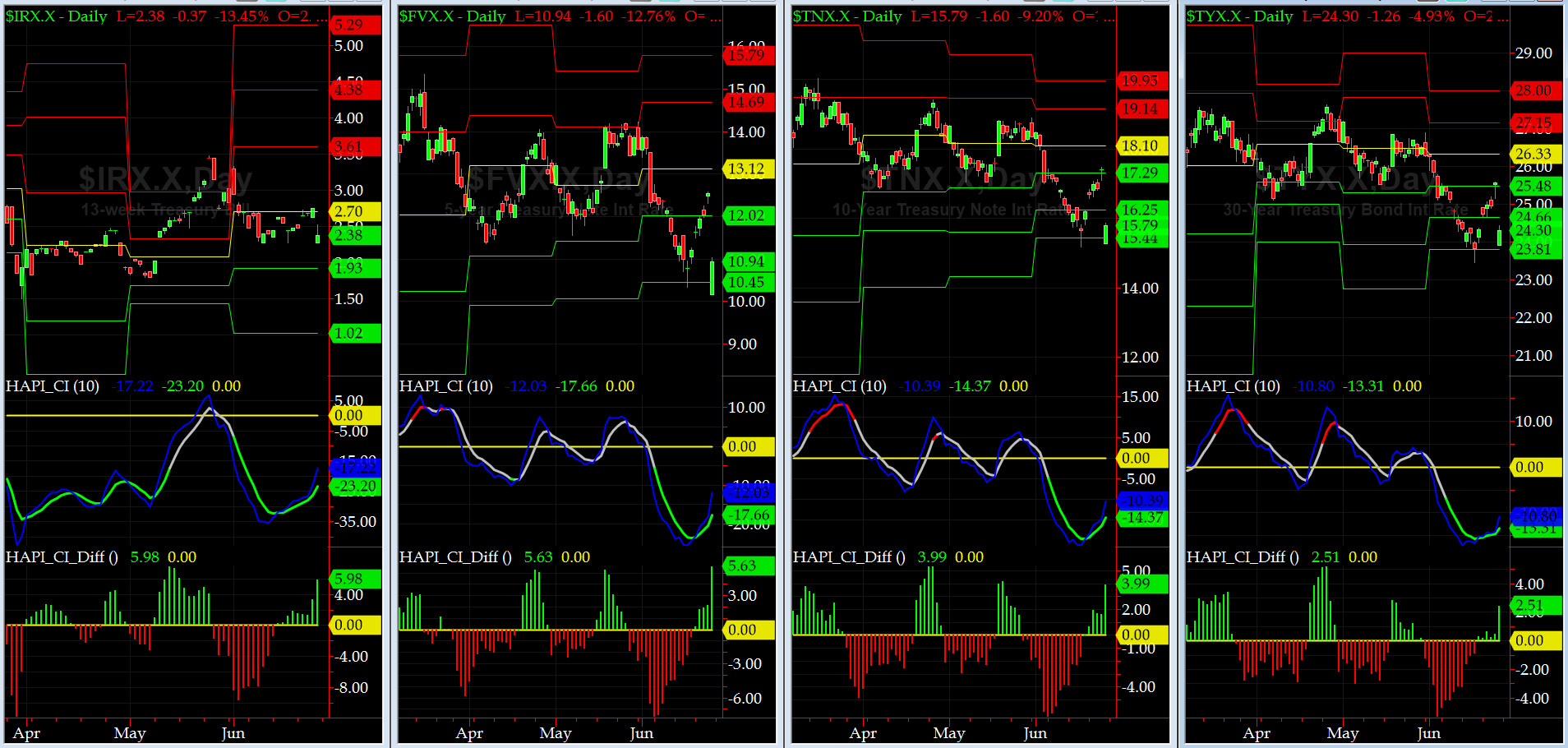 US Treasury T-Notes & T-Bonds Yields Chart

5 yr and longer dated US Paper hit their THIRD MONTHLY Support Levels again for second time this time. Here are the three most cherished words in the Bond Market vernacular: 'Flight to Safety....'

Fari Hamzei