Saturday, February 4, 2017, 1900ET
Market Timing Charts, Analysis & Commentary for Issue #179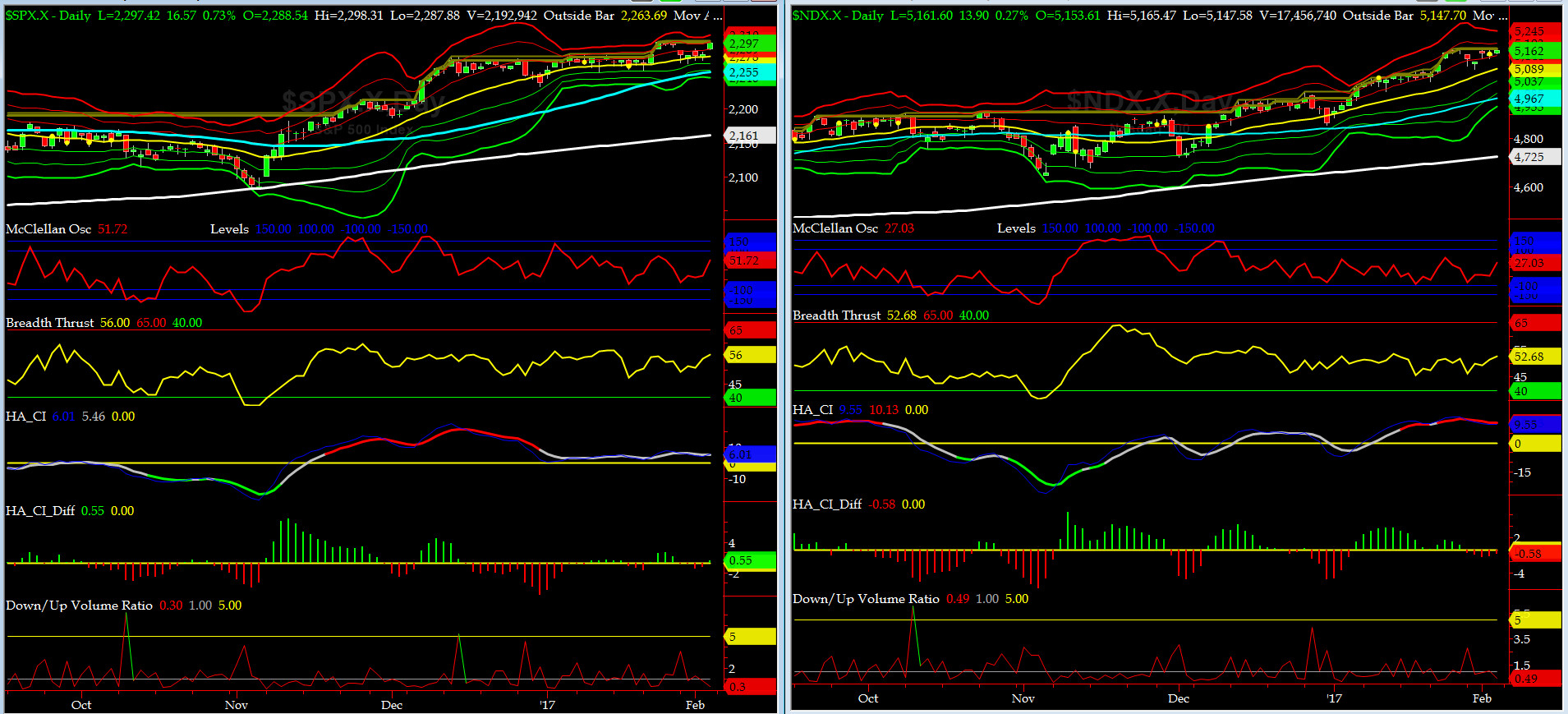 Timer Charts of S&P-500 Cash Index (SPX) + NASDAQ-100 Cash Index (NDX)

Most recent S&P-500 Cash Index (SPX): 2297.42 up +2.73 (up +0.12%) for the week ending Friday, February 3rd, 2017, closed near its +2 sigma.

SPX ALL TIME INTRADAY HIGH = 2300.99 (reached on Thursday, January 26, 2017)
SPX ALL TIME CLOSING HIGH = 2298.97 (reached on Wednesday, January 25, 2017)

Current DAILY +2 Sigma SPX = 2299 with WEEKLY +2 Sigma = 2334
Current DAILY 0 Sigma (20 day MA) SPX = 2278 with WEEKLY 0 Sigma = 2208
Current DAILY -2 Sigma SPX = 2257 with WEEKLY -2 Sigma = 2082

NYSE McClellan Oscillator = +51 (-150 is start of the O/S area; around -275 to -300 area or lower, we go into the "launch-pad" mode, over +150, we are in O/B area)
NYSE Breadth Thrust = 56 (40 is considered as oversold and 65 as overbought)

Once again, SPX failed to provide any price expansion in either direction. We saw a good amount of intraday vol, specially before FOMC and then during January NFP.

---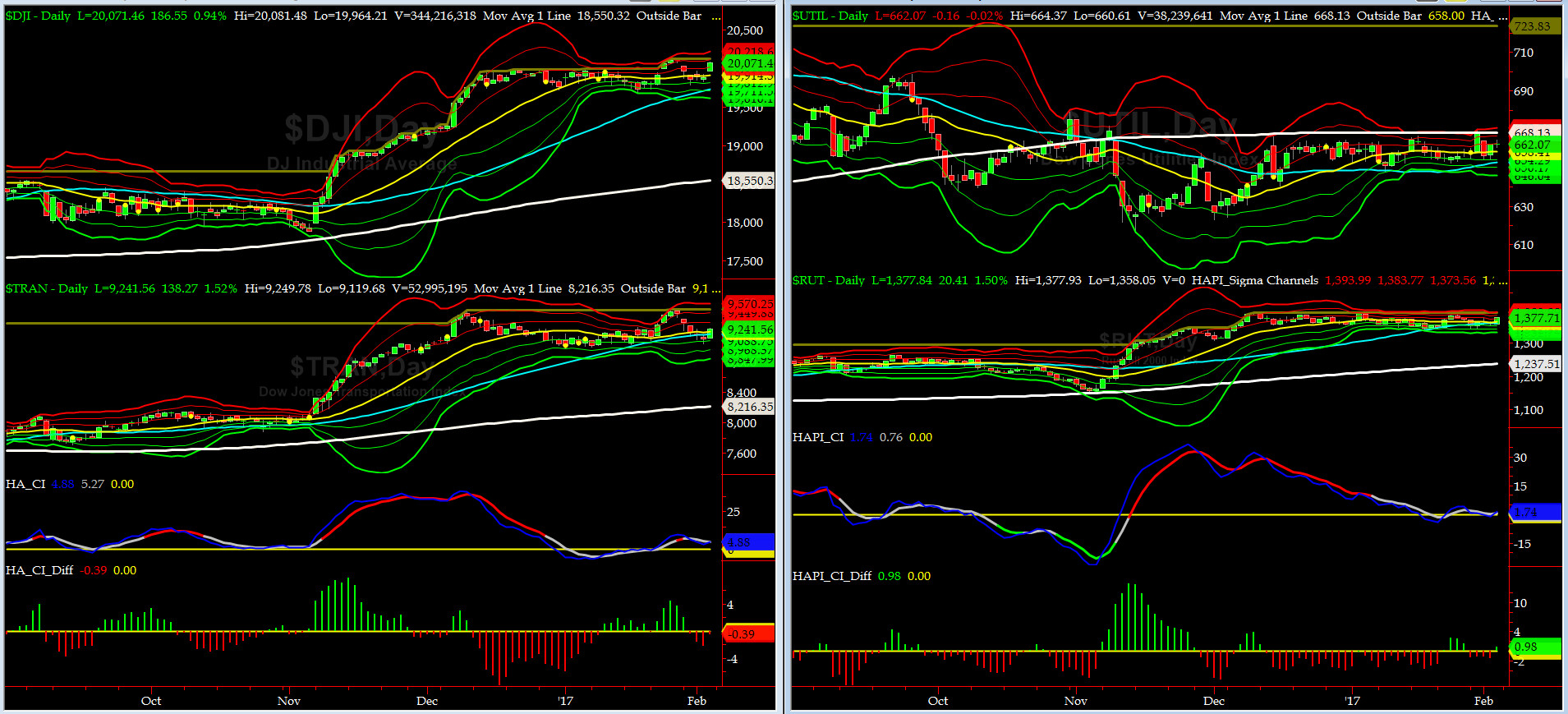 Canaries [in the Coal Mine] Chart for DJ TRAN & RUT Indices

200-Day MA DJ TRAN = 8216 or 12.5% below DJ TRAN (max observed in last 5 yrs = 20.2%, min = -20.3%)
200-Day MA RUT = 1237 or 11.3% below RUT (max observed in last 5 yrs = 21.3%, min = -22.6%)

DJ Transports (proxy for economic conditions 6 to 9 months hence) finally managed to bounce off its 50-bar MA (3rd time during this rally since the general election).
Russell 2000 small caps (proxy for Risk ON/OFF) had a huge day on Friday after January NFP blasted thru the consensus opinion, both for headline and privates. RISK remains HOT RED.
---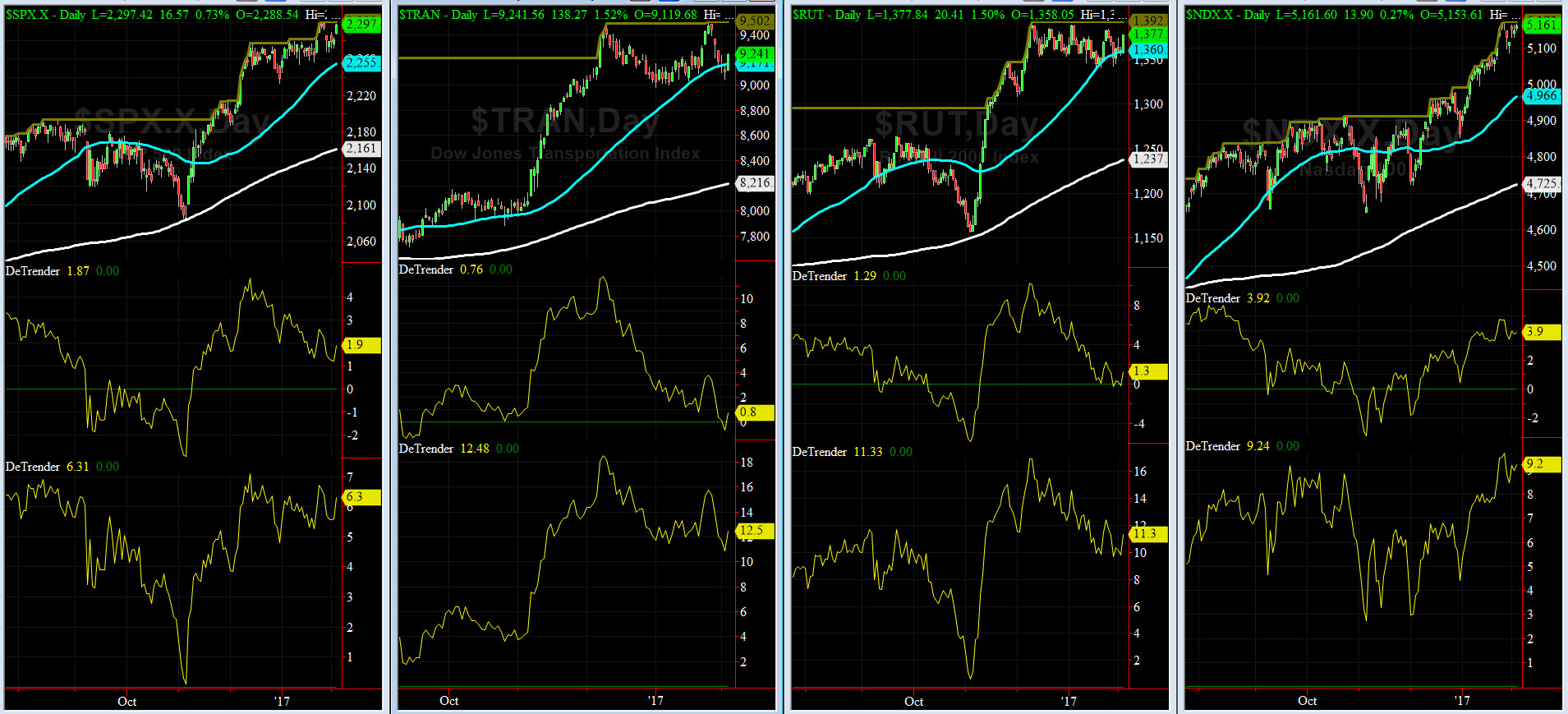 DeTrenders Charts for SPX, NDX, TRAN & RUT Indices

50-Day MA SPX = 2255 or 1.9% below SPX closed on Friday (max observed in last 5 yrs = +8.6%, min = -9.3%)
200-Day MA SPX = 2161 or 6.3% below SPX (max observed in last 5 yrs = 15.2%, min = -14%)

All of our eight De Trenders remain positive again. The De Trenders for DJ Tran & RUT will continue to be harbingers of future price behavior in broad indices.
---
WEEKLY Timing Model = on a BUY Signal since Friday 12/16/16 CLOSE at 2258
DAILY Timing Model = on a SELL Signal since Friday 2/3/17 CLOSE at 2297
Max SPX 52wk-highs reading last week = 30 (over 120-140, the local maxima is in)
Max SPX 52wk-Lows reading last week = 6 (over 40-60, the local minima is in)
HA_SP1 at just about its +1 sigma channels
HA_Momo = -0.7 (reversals most likely occur above +10 or below -10)


---
VIX is currently at its -1 sigma level at 10.97 (remember it's the VIX's vol pattern (its sigma channels) that matters, and not the level of VIX itself (this is per Dr. Robert Whaley, a great mentor and the inventor of original VIX, now called VXO). VIX usually peaks around a test of its +4 sigma).

The VOL Complex moved modestly LOWER this past week.
---
Both NYSE & NASDAQ 5-day TRINs are again NEUTRAL for now. No Signal here.
---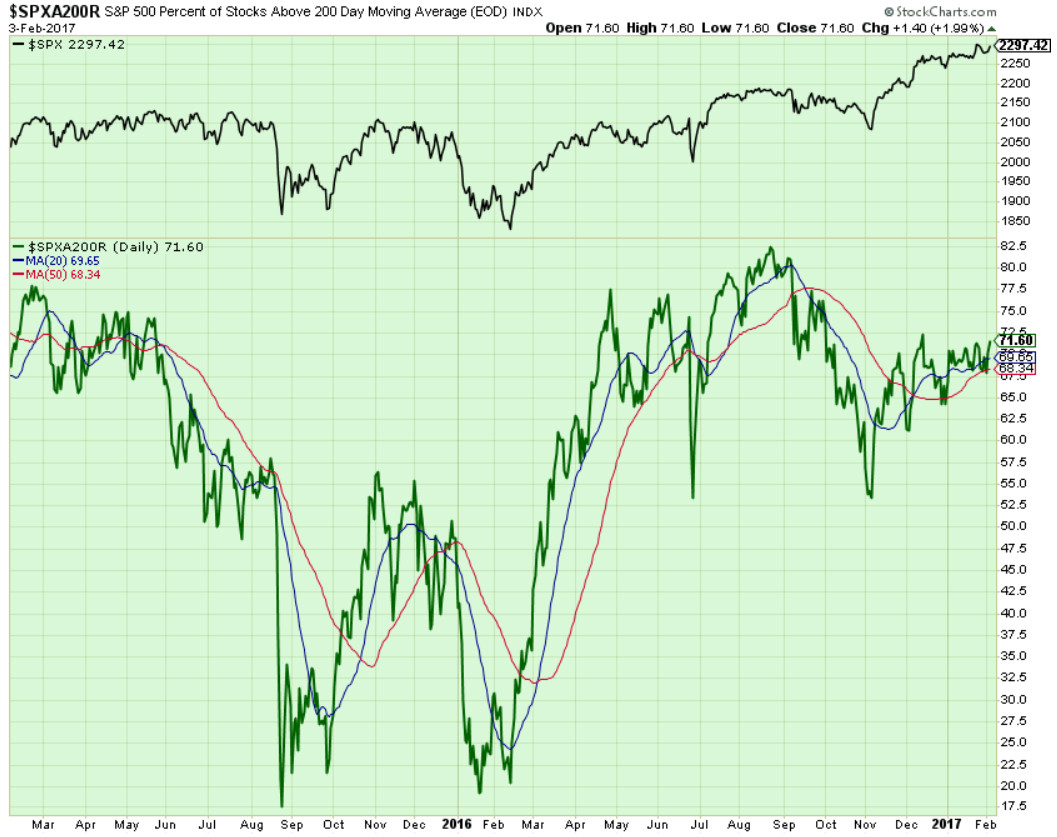 Components of SPX above their respective 200day MA Chart

This past Friday, looks like this scoring indicator wants to breakout. Target: 75%-77%
---
Last week SPX SKEW (Tail Risk) moved sideways and ended at zero sigma at 133. (normal = 120-125, range 100-150). All is [relatively] quiet again on the Eastern & Mid-Western Fronts....


---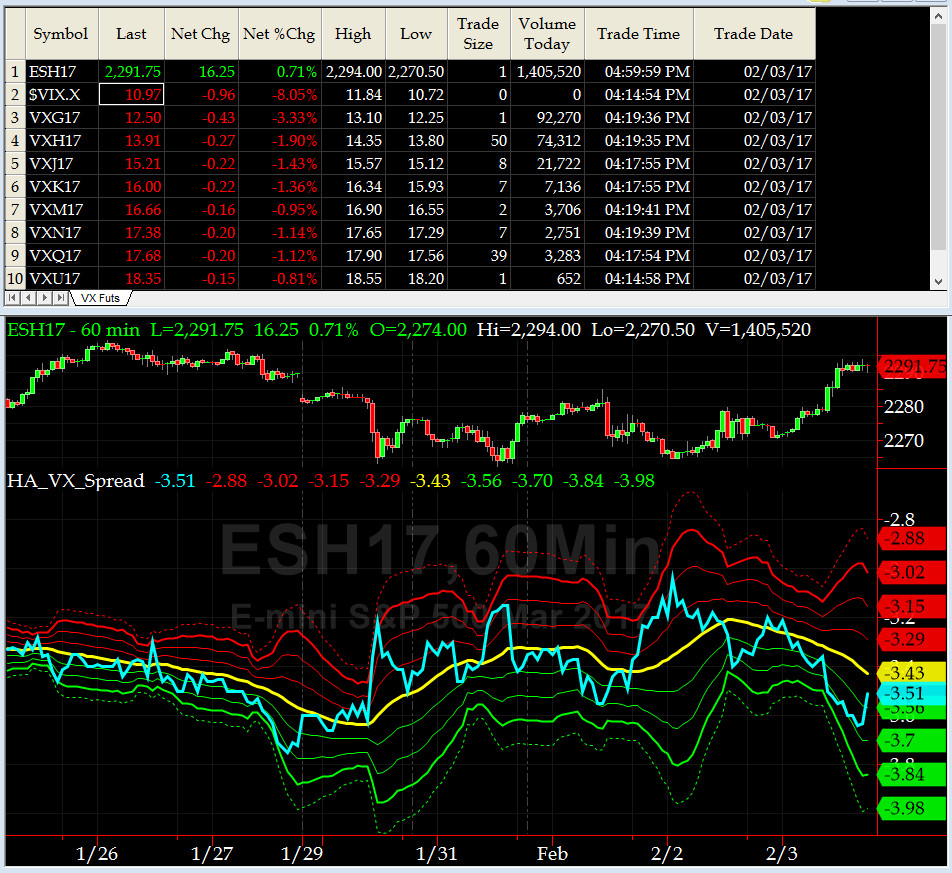 3-month VIX Futures Spread(VX) Chart

Our 3-month VIX Futures Spread (LONG FEB & SHORT MAY) rose slightly from last week and closed at -3.52 on Friday. NO SIGNAL HERE, YET.
---
HA_SP2 = 72 (Buy signal <= 25, Sell Signal >= 75)

SP2 sank to 44 and then sank to 72, showing a sign of possible double top in the making or market is bid, period, thanks to Grumpie LLC.
---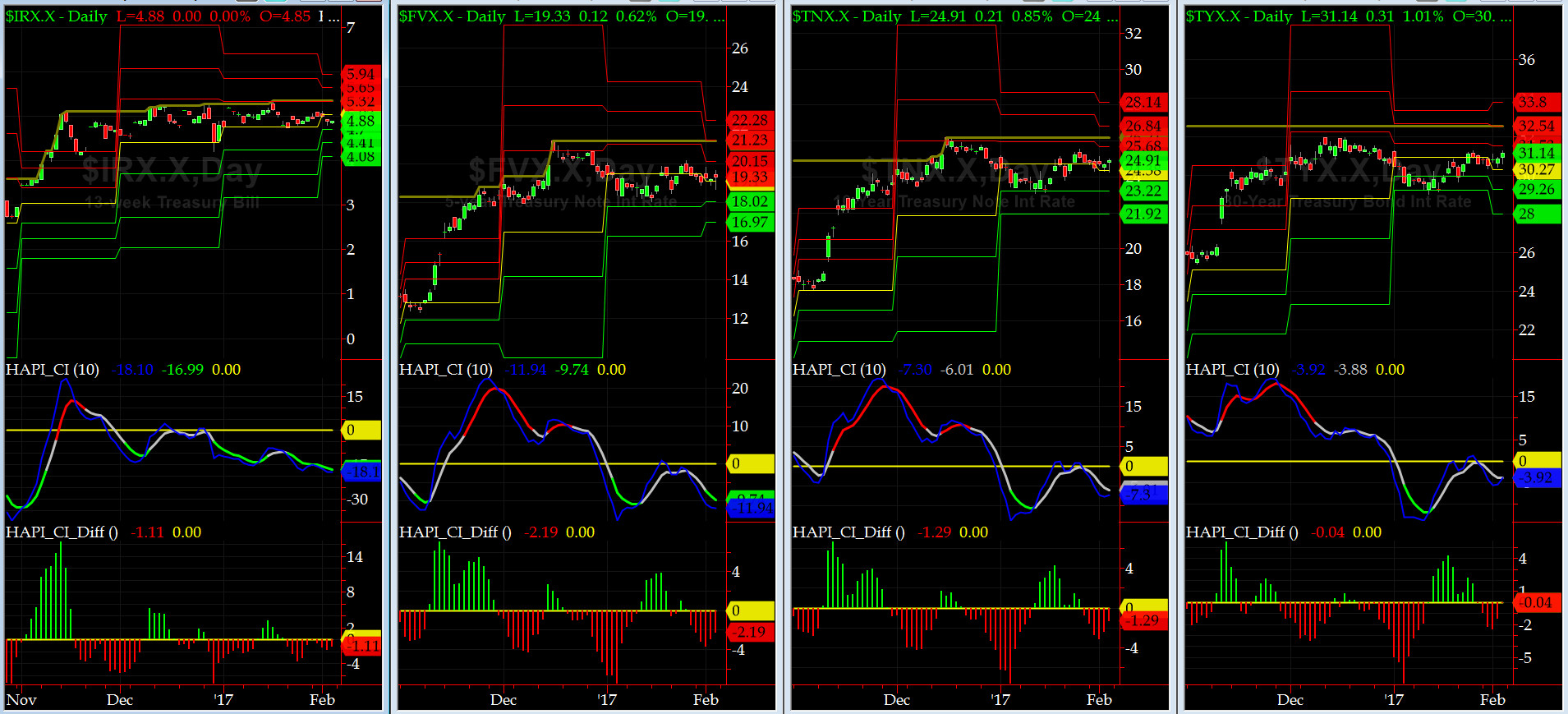 US Treasury T-Notes & T-Bonds Yields Chart

The YTMs rose a tad from their monthly pivots. Sausage Ops continued in the Bond Market. ROMANs were found at the Gates of CBOT (some with papers LOL).

Have a great Super Bowl weekend....Go BOSTON Go.
Fari Hamzei